Environmental performance
At ING we believe that managing our environmental impact is key to achieving our goal of being truly sustainable. That's why we monitor and manage the impact of our operations though our Environmental Programme.
The Environmental Programme was established to ensure that we're not only empowering our clients to make the transition to a more sustainable economy, but that we're making our own transition to become a more resource-efficient and climate-resilient company.

ING's Environmental Programme therefore allows us to effectively tackle the combined challenges of climate change and the need for more efficient use of natural resources while also providing opportunities to succeed in the low-carbon economy of the future.
Our journey
What has the programme accomplished so far? In 2015 we announced our global targets for reducing our operational footprint. To support this, we have successfully developed our Environmental Management System to reduce our global environmental footprint and increase awareness around the opportunities and impacts of energy use, business travel, waste, water and sustainable procurement.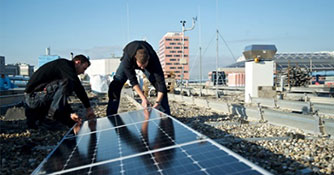 Example
A good example of the Environmental Programme in action is the commitment to 100% renewable energy powered buildings via the RE100 initiative. This initiative pushes us to reduce our direct environmental impact by providing clean energy for our operations, buildings and IT systems.
Projects like this have not only helped us in becoming more environmentally friendly but have also drawn the attention of industry analysts. We achieved the highest possible score on CDP's climate change assessment, being included in the 'A-list' for the seventh year in a row and recognised for our leadership on climate action.

However, there is still work to be done, so the Environmental Programme is focused on continuously improving our environmental performance in the following areas:
Energy
One of the largest sources of carbon emissions globally is energy production and consumption. To understand and reduce our energy use, we carry out regular monitoring, reporting and reduction strategies across our global operations. Our strategies range from more efficient use of building space, to increasing the energy efficiency of our buildings and data centres, to increasing our use of renewable energy.
Business travel
As a global bank, communication across our network is key. This traditionally required large amounts of business travel. With our Think Forward strategy and sustainability direction however, we are focusing on increased use of technology for seamless digital collaboration such as video conferencing to limit unnecessary travel. Where travel cannot be avoided, we discourage the use of air travel where possible and promote the use of public transport and electric vehicles.
Water
The issue of water stress is an increasing environmental issue worldwide. Although as a financial institution our water footprint is comparatively small compared to other industries, we have still launched an extensive monitoring and water-reduction strategy to minimise our impact. We make use of water-efficient infrastructure such as rainwater collection for sanitation, aerators for faucets and updated appliances for optimal efficiency.
Paper use and waste
Paper use and waste are also two focus areas due to our concern for the conservation of natural resources. This is why we aim to reduce our use of paper through greater utilisation of digital media and more efficient printing. We are also increasing our use of eco-labelled and environmentally friendly paper and recycle disposed paper worldwide. For general waste we have focused our efforts on increasing our recycling rate, management of e-waste and overall reduction of residual waste.
Sustainable procurement
To be a safe and secure bank for our customers and society, we take care to know our suppliers and ensure they share our commitment to fighting climate change and protecting human rights. We have a process in place that encourages our suppliers worldwide to act responsibly. We believe this is a real opportunity to have an impact and drive our sustainability ambitions through our supply chain.

We've included social and environmental responsibility requirements in our procurement process since 2012. ING's Procurement Sustainability Standards was based on the UN Global Compact Principles and is now incorporated into our global Know Your Supplier (KYS) process. The sustainability part of the KYS process today is evolved and expanded beyond UN Global Compact Principles and also holds other social and environmental aspects e.g. compliancy to Modern Slavery acts. This ensures we only do business with companies that agree to meet our sustainability requirements.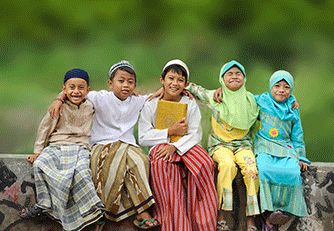 REDD+ Portfolio – Amazonian Rainforest in Brazil
We compensate for our remaining operational carbon emissions through purchasing voluntary carbon units (VCUs), with the majority originating from a high-impact Acre Amazonian Rainforest REDD+ Portfolio in Brazil. This collection of three projects prevents deforestation across 105,000 hectares of pristine rainforest in the Amazon basin by promoting sustainable economic livelihoods. Through granting land tenure and providing agricultural training to local communities, trees are kept standing, drawing down carbon from the atmosphere and protecting the area's rich biodiversity. The portfolio is verified and validated to the Verified Carbon Standard (VCS), and has achieved Gold Level status under the Climate Community and Biodiversity (CCB) Standard.
Our organisation
The Environmental Programme is headed by our Environmental Programme Steering Committee, which is chaired by the global head of Tech Infrastructure. ING's chief operations officer (COO) is the MBB sponsor of the programme. The Steering Committee ensures that the Environmental Programme strategy is integrated into daily business activities and has an impact across the global ING network.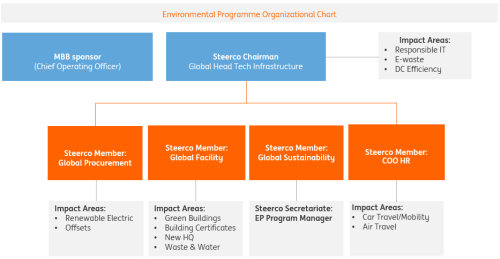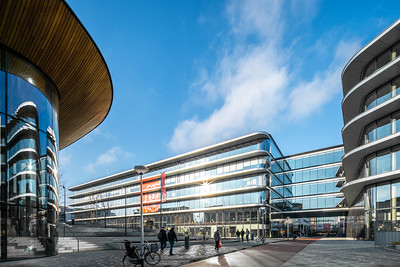 Example
A good example of the integration of the programme's sustainable strategy within ING is our corporate office 'Cedar', which opened in January 2020. Sustainability is key for the building. Cedar's design has been awarded the highest sustainability rating by BREEAM-NL. It was partially built with the concrete from the previous building on the same location. Around 3,000 square meters of solar panels provide energy for the building, while triple glazing and insulated window frames help to save energy. Various sustainable measures save up to 12 million litres of water per year. Single-use plastic is banished from the restaurants and coffee bars.
Our commitments
At ING we want to show leadership on environmental performance both to our clients and to the rest of the industry. This is why we committed to significant milestones in our specific impact areas.
Our commitments
We will reduce our scope 1 and 2 CO2e emissions from our buildings and data centres by 80% by year-end 2022, and 90% by year-end 2030 (base year 2014).
We will reduce our scope 3 CO2e emissions from business travel by airplane and car by 25% by year-end 2022 (base year 2014).
We will reduce energy consumption by 65% by year-end 2030 (new target, base year 2014).
We will reduce our global residual waste by 26% by year-end 2022 (base year 2014).
We will reduce our water footprint by 26% by 2022 (base year 2014).
We will continue to procure 100% renewable electricity for all ING buildings where we have management control worldwide.
We will continue to compensate for our remaining carbon emissions.
We will preferably procure green energy from local renewable projects: electricity supplied by energy sources that are naturally and continually replenished, such as wind, solar power, geothermal and hydropower.
We will maintain a standard for transparency about our progress by disclosing material environmental performance indicators in our annual report.
Our progress
We have already achieved substantial progress on many of our objectives.
Theme
Indicator
Unit
2014 figures
Target (baseline 2014)
Target year
FY2020
Energy
CO2e emissions (scope 1+2)
kilotonne CO2e
70
-80%
2022
-76%
Energy
CO2e emissions (scope 1+2)
kilotonne CO2e
70
-90%
2030
-76%
Energy
Energy consumption
GWh
409
-65%
2030
-34%
Energy
Renewable electricity*
%
77%
100%
2020 and ongoing
100%
Business travel
CO2e emissions (scope 3)
kilotonne CO2e
31
-25%
2022
-73%
Water
Water usage
thousands of m3
572
-26%
2022
-27%
Waste
Residual waste
tonnes
2.870
-26%
2022
-54%
Others
Carbon offsets
Ongoing
Continue to compensate for remaining carbon emissions from our operations
Ongoing
Since 2007
*for all ING buildings where we have management control
CO2e and emissions

Reducing our direct CO2e footprint is one of ING's key environmental goals. With the help of the Environmental Programme ING decreased our total carbon footprint by 57% as of year-end 2019 compared to 2014, achieving our 2020 target a year early. In 2020, we created separate Target reductions for Scope 1 & 2 emissions and Scope 3 emissions, so that we can more effectively manage each area. Our Scope 1 & 2 emissions were reduced by 76% compared to 2014. In 2020, travel and working from home restrictions contributed to this progress.
Carbon emissions
in kilotonne CO2e
2020
2019
2018
2017
2016
2015
2014
Coverage (% of employees)
99
99
96
96
96
95
90
Total extrapolated carbon
25
44
57
64
74
94
101

Energy & renewable electricity
We want to lead the way when it comes to energy efficiency and renewable energy production. Since 2014 we reduced our overall energy consumption by 34%. We also increased efficiency and increased our consumption of renewable electricity to 100% of total electricity consumption. In 2020, travel and working from home restrictions contributed to this progress.
Energy consumption
2020
2019
2018
2017
2016
2015
2014
Coverage (% of employees)
99
99
99
98
96
95
90
Renewable electricity %
100
98
98
95
91
86
77
In GWh
Total energy
270
291
296
315
367
385
409

Business travel
ING continues to reduce the impact from our business travel. In 2020, business travel by both air and car was largely impacted by travel and working from home restrictions. We have continued introducing more fuel efficient vehicles including fully electric and hybrid vehicles to our car fleet. As such, the overall efficiency of our fleet has increased since 2014.
Business Travel
2020
2019
2018
2017
2016
2015
2014
In # vehicles
Fully electric vehicles
763
609
231
105
82
75
59
Hybrid vehicles
1691
810
470
302
301
485
473

Waste
Our residual waste was reduced by 54% in 2020 relative to our base year.
Residual Waste
2020
2019
2018
2017
2016
2015
2014
Coverage (% of employees)
99
99
99
99
98
95
92
In tonnes
Total residual waste
1,366
2,370
1,836
1,576
3,032
2,714
2,870

Water
Since 2014 our measured water footprint decreased by 27%.
Water consumption
2020
2019
2018
2017
2016
2015
2014
Coverage (% of employees)
91
94
95
96
92
91
87
in thousands of m3
Total water consumption
366
500
498
563
578
574
572
Full details on the progress we are making on our environmental objectives and other important environmental data please see the non-financial appendix section on our Annual Report 2020.