Materiality: defining what matters most
To improve as an organisation we need to identify, understand and balance the most important topics for our stakeholders and know how these relate to the actions and decisions that we take.

ING has been conducting and publishing a materiality analysis since 2011. Materiality analysis provides insights into future trends and business risks and opportunities that influence our ability to create value. It helps identify topics that our stakeholders, both internal and external, expect us to focus on.

The results and process of the materiality analysis have been published in the ING Annual Report and have shaped its content since 2014.

Overview of material topics and how we manage these
The topics with the highest priority for stakeholders and the biggest estimated impact on our business, and in turn on society, appear in the matrix below. Note that this is only the top right corner of the overall matrix. This means that all the topics shown are both material and high priority.

Our approach and performance on each material topic can be found in the ING Annual Report. The outcome of materiality analysis helps us review our management approach on the topics and assess where we can improve.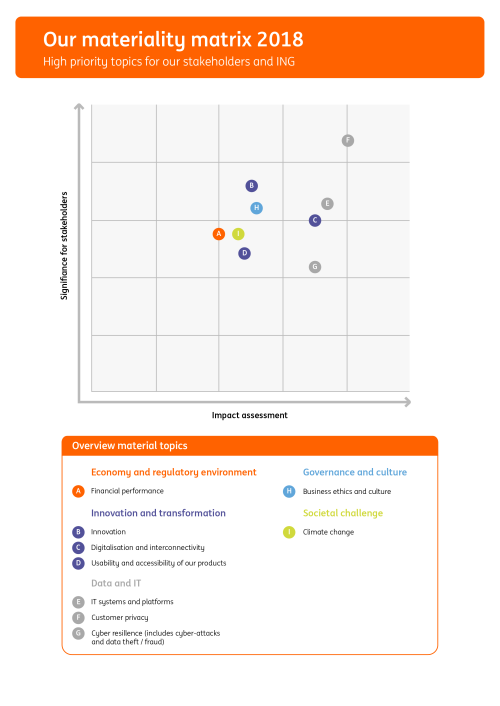 Topic definition
| Letter | Topic name | Topic definition |
| --- | --- | --- |
| a | Financial performance | Being a financially healthy and stable company |
| b | Innovation | Embracing future trends, both digital and otherwise, to develop new business models |
| c | Customer privacy | Protecting customer and other confidential information and ensuring information is treated with integrity and is available when needed |
| e | IT systems and platforms | Securing the stability of IT systems and platforms, such as payment services, internet banking, data centres and apps |
| f | Usability and accessibility of our products | Making banking personal, instant, seamless, relevant and accessible to enhance the customer experience |
| g | Cyber resilience (includes cyber-attacks and data theft / fraud) | Threats from cyber-attacks or malware and wrongful exploitation of private or official data |
| h | Business ethics & culture | Fair, transparent and moral code of conduct for the strategic and operational management of business |
| i | Climate change | Enacting effective measures to mitigate climate change and help businesses affected by climate change to adapt |
| j | Digitalisation & interconnectivity | Transforming business activities around digital trends and technologies, such as increased connection with third parties and exposing functionalities via application programming interfaces (APIs) |
How ING approached the materiality analysis in 2018
Materiality is a journey and we want to approach in the best way possible - it is much more than a 'tick the box' exercise. We constantly strive to strengthen our approach and work with different teams such as Risk and Strategy to align integrate existing processes.

Our materiality analysis is based on an ongoing trend and media analysis and stakeholder input. In 2018, we complemented our quantitative (survey-based) approach with digital data-driven analysis; we integrated our process with risk identification and business environment assessment; and we included two dynamic elements – the topic velocity and its stage of development – to assess maturity and speed of the topics.

The materiality analysis process (PDF 0,09 MB) is reflected in the following flowchart. Both the axes of the matrix – stakeholder importance and impact assessment – are redefined and updated.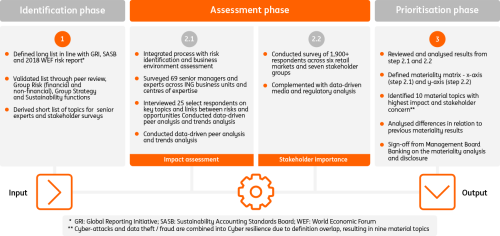 What are the key objectives of a materiality analysis?
Our key objectives are to:
Identify future trends, new business risks and opportunities that could impact ING's ability to create medium and long-term value;
Understand stakeholders' and senior management and experts' perspective (at a global and local level);
Stay ahead of continuously evolving market, regulatory and stakeholder demands;
Enhance transparency and disclosure on non-financial topics and how we manage them;
Inform content of ING's Annual Report;
Improve conciseness and quality of our Annual Report;
Disclose non-financial information in line with Global Reporting Initiative (GRI) and International Integrated Reporting Council (IIRC) Standards.
Representation of our global stakeholder universe
This is a complex challenge, as we operate in over 40 countries and have a great number of stakeholders, each with different expectations. We have a proactive stakeholder engagement approach. Read more on our integrated approach to stakeholder engagement here.

We engaged the following stakeholder groups in our 2018 materiality analysis:
wholesale clients from across ING markets;
retail customers from the Netherlands, Belgium, Germany, Spain, Poland and Turkey;
small and medium enterprises (SME) and mid-corporate (MC) clients from the Netherlands, Belgium, Poland and Turkey;
investors, including shareholders;
civil society organizations;
employees;
government and public policy professionals.
Integration in the content of our Annual Report and stakeholder engagement approach
We use the outcomes of our materiality assessment to shape the content of our Annual Report. To learn more about the way we did that this year please see the 'The world around us' chapter and other content in the ING Annual Report.

We also use the outcomes for our proactive stakeholder engagement approach. This is adjusted each year as the most important material issues from the assessment represent the issues that are more significant to our stakeholders.