Materiality: defining what matters most
To improve as an organisation we need to identify, understand and balance the most important topics for our stakeholders and know how these relate to the actions and decisions that we take.

ING has been conducting and publishing a materiality assessment since 2012. This identifies what economic, social and environmental topics we should prioritise to further improve the way we do business and drive sustainable progress in society. The results guide us in our strategic decision-making, stakeholder engagement agenda and reporting framework.

The results and analysis of the materiality assessment have been published in the ING Integrated Report and have shaped its content since 2014.
Overview of material topics and how we manage these
Our materiality analysis combines quantitative and qualitative research, which provides for a holistic understanding of stakeholder expectations and more effective engagement.

We used a three-year cycle; a quantitative assessment involving 1,500 respondents across five countries and six stakeholder groups in 2015, and qualitative assessments in 2016 and 2017 across our businesses in Belgium, Germany and the Netherlands.

The topics with the highest priority for stakeholders and the biggest estimated impact on our business appear in the matrix below. Note that this is only the top right corner of the overall matrix. This means that all the topics shown are both material and high priority.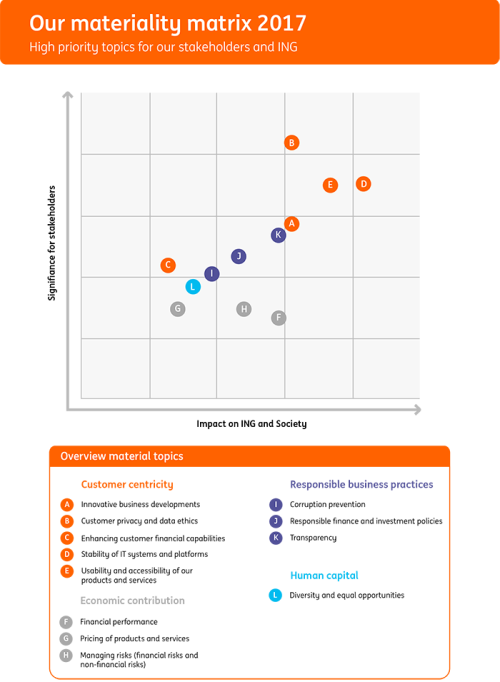 How ING approached the materiality assessment
Materiality is a challenging journey and we want to approach in the best way possible - it is much more than a 'tick the box' exercise. Each year we strive to make our materiality assessment increasingly representative of our stakeholder universe so we can be confident that the outcomes really reflect the most important issues of the moment.

This is a complex challenge, as we operate in over 40 countries and have a great number of stakeholders, each with different expectations.

Combining qualitative stakeholder dialogues in 2016 and 2017 across different businesses with the extensive quantitative survey in 2015 increased our understanding of stakeholder priorities; helped us align on material topics through transparent dialogues; and provided us opportunities to have an in-depth conversation with several stakeholder groups at once.
Identification of issues through extensive research
The 2015 topics were identified through extensive research that included ING's own non-financial risk assessment as well as guidelines from international bodies such as GRI G4 and the Sustainability Accounting Standards Board (SASB).

The materiality survey conducted in 2015 resulted in 18 material topics. In 2016 and 2017 we built on the results of 2015 for both the internal assessment and the external assessment. A media, trend and peer analysis is performed every year to capture new emerging topics and to ensure the topics reported are relevant.
Prioritisation of topics
External prioritisation

In 2017, ING chose to update our materiality outcomes by holding external stakeholder dialogues in Belgium and Germany. The participants represented business and retail customers, NGOs, academics, shareholders, employees and regulators. They were asked to rate our material topics on importance and to choose one or two recommendations for ING to focus on, including emerging topics.
Internal prioritisation

Interviews were conducted with 23 key senior managers from all relevant ING departments. Interviewees were asked to score all 18 material topics and express their opinion on the material and emerging topics.

Reducing the number of topics
Our materiality work in 2017 helped us focus by reducing the number of material topics. In a 'hygiene' first step, we removed the topics 'regulatory development and compliance' and 'anti-competitive behaviour prevention', both relating to regulatory compliance.

Furthermore, the topic 'trust' was removed, as we believe we gain trust through our performance on other topics. We then increased the materiality threshold to create more focus and balance in our reporting. As a result, 'responsible lending and debt prevention' and 'remuneration of ING employees' were removed. The former still forms a prominent part of our reporting under the material topic 'enhancing customer financial capabilities'.

'Remuneration of ING employees' is captured within the remuneration chapter of the Annual Report, GRI content index and Capital Requirements Regulation (CRR) 2017 Remuneration Disclosure ING Bank N.V disclosure. Disclosures are similar to previous years, just not considered material. Lastly, we have clustered the topics of 'fair communication of products and services' and 'transparency' as their definitions overlapped. The boundaries of the material topics remain unchanged.
Representation of our global stakeholder universe
The stakeholders that took part in the materiality dialogue in 2017 (business and retail customers, NGOs, academics, shareholders, employees and regulators) were chosen because they are impacted by - and have an impact on - our business the most. Read more on our integrated approach to stakeholder engagement here.
Integration in the content of our Annual Report and stakeholder engagement approach
We use the outcomes of our materiality assessment to shape the content of our Annual Report. To learn more about the way we did that this year please see the 'What matters most' chapter and other content in the ING Annual Report.

We also use the outcomes for our proactive stakeholder engagement approach. This is adjusted each year as the most important material issues from the assessment represent the issues that are more significant to our stakeholders.