Materiality: focusing on what matters most
To improve as an organisation we need to identify, understand and closely manage our performance on the most important topics for our stakeholders, balancing their interest whenever we make decisions.

ING has been regularly conducting a materiality analysis since 2011. This provides insights into trends, business risks and opportunities that influence our ability to create value.

The most recent materiality analysis process and results are disclosed in ING's 2020 Annual Report and subject to reasonable assurance, the highest level of assurance for non-financial topics.
Overview of material topics and how we manage them
The topics with the highest priority for stakeholders and the biggest estimated impact on our business or on society appear in the matrix below. All topics shown in the top right corner of the chart are considered material and high priority.

Our approach and performance on each material topic can be found in ING's 2020 Annual Report. The outcomes of our materiality analysis help us review our management approach and assess where we can improve.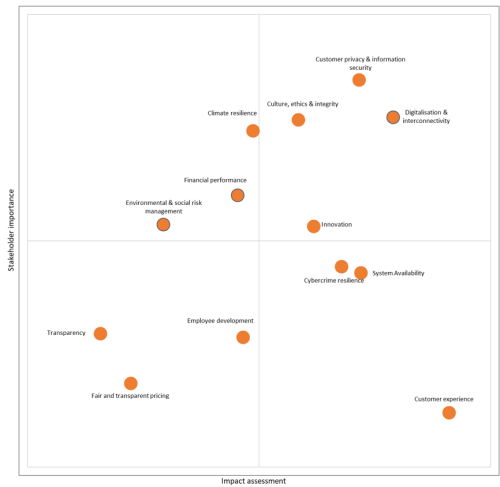 Topic definition
| Letter | Topic name | Topic definition |
| --- | --- | --- |
| a | Customer privacy & information security | Protecting customer and confidential information and ensuring information is treated with integrity and is available when needed |
| b | System availability | Securing the stability of IT systems and platforms, such as payment services, internet banking, data centres and apps |
| c | Innovation | Embedding trends in product development, innovating business models |
| e | Digitalisation & interconnectivity | Transforming business activities around digital trends and technologies, such as increased connections with third parties and exposing functionalities via application programming interfaces (APIs) |
| f | Culture, ethics & integrity | Conducting business with the highest level of integrity and compliance with all applicable laws, regulations and standards, with the Orange Code and Orange Values as our foundation. ING has a zero-tolerance approach to bribery and corruption and will strive to detect any such in our business dealings. |
| g | Cybercrime resilience | Managing threats from cyberattacks or malware and wrongful exploitation of private or official data |
| h | Climate resilience | Enacting effective measures to mitigate climate change and help businesses affected by climate change to adapt |
| i | Customer experience | Making banking personal, instant, seamless, relevant and accessible to enhance the customer experience |
| j | Financial performance | Being a financially healthy and stable company |
| k | Environmental & social risk | Applying the ESR framework to ensure that clients reduce their negative social and environmental impact. |
| l | Employee development | Education and training to advance employees' skills and ensure they remain up to date. |
How ING approached the materiality analysis in 2020
In 2020 we conducted a materiality assessment consisting of global peer, media, trend and regulatory analyses. The process was aligned with the guidelines and standards of the Global Reporting Initiative (GRI) and the International Integrated Reporting Council (IIRC), resulting in a list of material topics. The 2019 materiality analysis outcomes served as the basis for our 2020 analysis. The core of this year's process was a validation using internal and external data sources while ensuring the principles of completeness, accuracy and relevance. The process included the following input:
Internal and external stakeholder perspectives;
The results of an internal risk assessment conducted in 2020;
ING's Think Forward strategy;
Industry trend reports from think tanks and thought leaders;
Regulatory developments.
The aggregation of this input provided preliminary results that were validated in peer and media analyses. As a result, 'Environmental and social risk management' was added as a material topic. 'Employee development', a topic on our 2019 materiality long list, passed our inclusion threshold in 2020. We renamed the following material topics without changes to their scope to improve clarity:
'IT systems & platforms' became 'System availability'
'Usability and accessibility' became 'Customer experience'
'Climate change' became 'Climate resilience'
The process received reasonable assurance from audit firm KPMG.
Our global stakeholders
We operate in over 40 countries and have a great number of stakeholders, each with different expectations. We have a proactive stakeholder engagement approach. Read more on our integrated approach to stakeholder engagement here.