Stakeholder engagement
Dialogue with our stakeholders
We continuously listen to different constituencies, the most important of which are customers, employees, supervisors, shareholders, civil society organisations and citizens and regulators. We seek feedback from our stakeholders on different issues and try to engage in a constructive dialogue. This enables us to learn which issues are most important to them and how we can best align the interests of our business with theirs.
Our approach
Rather than having one-off consultations around specific topics, we prefer to take an integrated approach towards stakeholder engagement. This means that we have an ongoing dialogue about our role in society, our products and services, our business performance and other issues. This is done at both the business unit and Group level.

The instruments we use to conduct this dialogue include: regular information sessions for private and corporate clients on customer protection; stakeholder dialogues on topics like financial regulation, and corporate responsibility; representations in various international bodies; roundtable sessions with policymakers and academics; frequent bilateral contacts with regulatory and government authorities, civil society organisations (including non-governmental organisations, labour unions and industry associations); press conferences; frequent conference calls, technical briefing sessions and roadshows for journalists, analysts, rating agencies and investors. We also use surveys, in-depth interviews and focus groups.

As indicated, the way financial institutions account for their way of doing business, remains a subject of constant debate. Banks and insurance companies are expected to actively involve their stakeholders as they (re-)design their business strategies. This is especially true for financial institutions such as ING that received state aid in 2008/2009 and are currently implementing far-reaching restructuring programmes.

However, the expectations of each stakeholder can vary widely. Shareholders' priorities will usually be different than than employees' or regulators'. In order to give a clear overview of the diversity of stakeholder views, we asked 'de Argumentenfabriek' (the Argumentation Factory), an Amsterdam-based agency, to help us visualise them based on several stakeholder dialogue sessions held during 2011. The result is shown on the next two pages.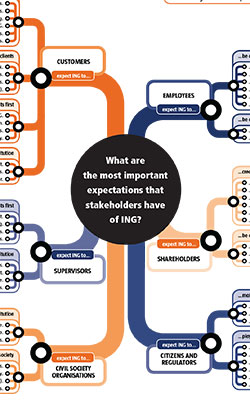 Our stakeholders' expectations
The Expectations Map (PDF, 93 KB) provides an extensive overview of the issues that matter to our stakeholders. Although this overview is by no means complete, it does illustrate the complexity of our operating environment. Clearly, the expectations of our stakeholders are not always consistent, and sometimes even contradictory. As a result of the often diverging expectations of our stakeholders, our daily business is a continuum of real-life dilemmas.

For instance, many of our stakeholders rightly emphasise our responsibility to minimise risk. At the same time, however, measured risk-taking is an inherent part of the business of a financial services provider. Taking just one example from the Expectations Map, servicing corporate clients well will sometimes require us to help them manage their credit, market, interest rate and foreign exchange risks.

Accordingly, supervisors and regulators expect us to raise capital buffers and improve our liquidity position, while our customers expect us to provide financial solutions even when they are not doing well financially. Finally, with regard to financing in light of the climate change debate, what should be our response to a request for finance of a modern and efficient coal fired power plant if the new one is meant to replace an old and inefficient one?

Notwithstanding these dilemmas, we consider it our responsibility as a financial institution to carefully weigh the interests of our stakeholders and to do our utmost to meet their expectations. But while having a thorough understanding of stakeholder expectations is one thing, it is quite another thing to effectively translate these expectations into solutions and match them with our business strategies. Particularly relevant in this respect is providing insight into how we use or apply their input in designing the solutions that our stakeholders expect of us.

Based on the Expectations Map and our bilateral contacts with our stakeholders, we have identified the most material issues per stakeholder group. The table presented on pages 24 – 27 in the 2011 ING in Society report provides brief explanations of our positions, strategies and/or business actions per issue.

Partnerships, memberships & endorsements
ING endorses (is signatory of):
The Universal Declaration of Human Rights
The Core Conventions of the International Labour Organisation (ILO)
Principles for Responsible Investment (PRI)
Principles for Sustainable Insurance (PSI)
Principles for Investors for Inclusive Finance (PIIF)
CDP (Carbon Disclosure Project)
Global Reporting Initiative (GRI)
Children's Rights and Business Principles (CRBP)
Global Investor Statement on Climate Change
Global Education First Initiative
EU Transparency Register
Code of Conduct of the Society of European Affairs Professionals (SEAP)
Lobbying register of the House of Representatives of the Netherlands
Wolfsburg Group principles.
ING is a member of:
International Integrated Reporting Council (IIRC)
United Nations Environmental Programme Finance Initiative (UNEP FI)
UNEP Finance Initiative Climate Change Working Group (UNEP FI CCWG)
UNEP Finance Initiative Work Stream Social Issues
United Nations Global Compact
the Academy of Business and Society (ABIS)
Leaders for Nature network
Equator Principles Association (EP)
Thun Group of Banks
Association for Financial Markets in Europe
Centre for European Policy Studies – European Capital Markets Institute
European Financial services Round Table
International Capital Market Association
Institute of International Finance
Dutch Social Investment Forum (VB DO)
International Corporate Governance Network (ICGN)
the European Fund and Asset Management Association (EFAMA)
CRO Forum, Sustainability Working Group.