Annual Review 2015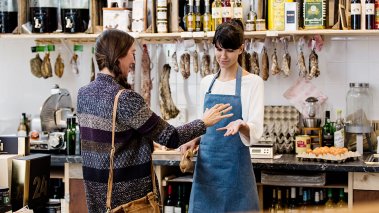 Getting better
Operational excellence and innovation are central to getting better, a key element in ING's Customer Promise. Operational Excellence throughout ING is necessary to consistently deliver for customers in an efficient way. Similarly, we need to continuously innovate to provide a differentiating experience that meets customers' evolving needs and expectations.
Operational excellence
Staying true to our Customer Promise and delivering a differentiating customer experience requires us to be operationally excellent. We aim to be a next generation digital bank by focusing on availability (anytime and anywhere), consistency and quality.

Our approach to operational excellence encompasses processes, information technology, bank-wide data management as well as standardised systems and platforms, all underpinned by a collaborative performance culture.

In 2015, we introduced the Operational Dashboard which allows us to consistently measure our progress in living up to the different elements of our Customer Promise. It also contributes to building a culture of continuous improvement.
Standardising to win
Increased standardisation will allow us to more easily build scale and structurally lower our cost base. Currently, the lack of standardisation across ING is hampering our efforts to achieve our strategic goals. We have prioritised cloud computing, a common API (enables standardisation of our IT systems) and data infrastructure as key areas for specific process improvements and flawless execution.
Data privacy and security
We comply not just with legal and regulatory requirements for data privacy but also take customers' wishes into consideration. Customers trust us to store their data with the utmost care and safety. We strive be transparent about what we do with the personal data of customers, suppliers and business partners, and only process personal data for specific business purposes.
Innovation
Accelerating the pace of innovation is a strategic priority for ING. This is because the Bank needs to keep up with the pace of change that exists around it. Innovation at ING is primarily about bringing better solutions to customers faster. It is about sourcing fresh ideas that improve the customer experience, selecting the best ones and then successfully translating these ideas into new products and services.

We do not innovate for the sake of it. We concentrate our efforts on our customers and on fulfilling our Customer Promise: to make things clear and easy, be accessible anytime anywhere, to empower customers and to keep getting better.
Implementing ideas
ING sources innovative ideas directly from employees through regular "Innovation Bootcamps" and hackathons. In 2015, 3,000 ideas were submitted by employees with seed funding provided to the best ideas that emerged from a rigorous selection process.
Bringing in the best from outside
The emergence of financial technology (fintech) companies is a disruptive competitive threat for financial institutions, but also represents an opportunity. Fintechs are often more agile and quicker to develop new ideas that improve the customer experience. However many do not have our strong and trusted brand, ING's large international customer base, our local market expertise nor our extensive cross-border distribution network.
The ING way to innovate
We believe that innovation and entrepreneurship are part of ING's culture. Since the launch of ING's forerunner in the Netherlands more than 140 years ago, the Bank has pioneered new ways of making banking easier and more accessible. An example of this is ING Direct transforming the banking industry by being the first direct bank.
The Annual Review 2015 continues with
Retail Banking