Stakeholder engagement
We believe that our relationship and interactions with our stakeholders are essential in evolving our sustainable progress and evaluating the impact of our business. Actively listening to our various stakeholder groups and responding to their views and concerns are very important for us. This input helps us balance competing expectations, address issues in an informed way and, crucially, helps us to improve our business.
Retail clients, business clients, employees, investors, NGOs, suppliers, supervisors and regulators are among our most important constituencies. These stakeholders are prioritized as they are most likely to be impacted by our business and operations as well as having the most influence on ING achieving its strategic goals. We are increasingly moving towards stakeholder collaboration: coming up with new ways of driving sustainable progress through a close collaboration with diverse stakeholder groups.
An integrated approach
Rather than having one-off consultations around specific topics, we prefer to take an integrated approach towards stakeholder engagement. This means that we have an ongoing dialogue about our role in society, our products and services, our business performance and other issues. We also collaborate with our stakeholders to further improve. This is done at both the business unit and Group level.
Although our global approach is still being worked on, stakeholder engagement is ongoing and is being integrated by various business units that engage with specific stakeholder groups (e.g. at Retail Banking when it comes to engaging with retail clients, at Wholesale Banking when it comes to engaging with business clients, etc).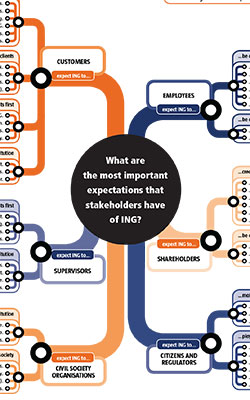 Example of 2015 results: engagement on current topics of interest to society at large and NGO's
We would like to be transparent about specific sustainability related topics that raised questions in society during 2015 and we engaged on with NGO's during the year. This table was also shared in the Sustainability Annex of ING's 2015 Annual Report.
Partnerships, memberships & endorsements
ING endorses (is signatory of):
CDP (Carbon Disclosure Project)
Children's Rights and Business Principles (CRBP)
Code of Conduct of the Society of European Affairs Professionals (SEAP)
The Core Conventions of the International Labour Organisation (ILO)
EU Transparency Register
Global Education First Initiative
Global Reporting Initiative (GRI)
Lobbying register of the House of Representatives of the Netherlands
Principles for Investors for Inclusive Finance (PIIF)
The Universal Declaration of Human Rights
Wolfsburg Group
Signed/endorsed in 2015
European Financial Services Round Table (EFR) Statement on Climate Change
NVB Klimaatstatement (NL)
Renewable energy 100% (RE100)
UNEP FI/ EBRD Statement by Financial Institutions on Energy Efficiency Finance
World Economic Forum CEO Climate Statement
ING is a member of:
The Academy of Business in Society (ABIS)
Association for Financial Markets in Europe
Centre for European Policy Studies – European Capital Markets Institute
Climate Markets and Investment Association (CMIA)
CRO Forum, Sustainability Working Group
Ellen MacArthur Foundation's CE100 programme
Equator Principles Association (EP)
European Financial Services Round Table (EFR)
European Fund and Asset Management Association (EFAMA)
EUROSIF (VBDO)
Institute of International Finance (IIF)
International Capital Market Association (ICMA)
International Corporate Governance Network (ICGN)
International Integrated Reporting Council (IIRC)
IUCN/ Leaders for Nature network
Netherlands Water Partnership
Roundtable on Sustainable Palm Oil (RSPO)
Thun Group of Banks
United Nations Environmental Programme Finance Initiative (UNEP FI)
United Nations Global Compact