A fintech love affair
08 December 2016
...

min read
Listen
8 December 2016
ING is in some kind of a relationship with more than 65 fintech start-ups. How do you keep the passion burning when the dating game is over? A true story.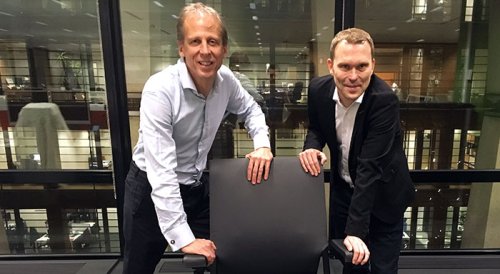 With its soft lighting and candlelit tables, the Tóma Maté restaurant in Beersel, near Brussels, would be a fine setting for any marriage proposal.

But late last year, two people came here to save their relationship.

For months, ING Corporate Clients in Belgium and Zervant, a Finnish startup, had been trying to agree on a model of collaboration. ING wanted to offer SME customers an online invoicing solution and thought it had found the answer in Zervant.

"We had been working hard for five months, but weren't getting anywhere," said Sébastien D'Hondt, head of Corporate Clients for Benelux.

ING wasn't willing to take on all the risk and costs and just share the revenues. The informal dinner at Tóma Maté, where senior managers from both companies were present, including Zervant CEO, Mattias Hansson, and ING Belgium's COO, Franck Stockx, was a last-ditch attempt to find a way out of the impasse.

No one was really confident. But over Argentine steaks and wine, Sébastien and Tuukka Koskinen, co-founder of Zervant, started to talk. It was the first time the two men and the others around the table had met in person.

"I felt a connection that night," said Koskinen.
Happily ever after?
By the end of the evening, ING and Zervant had agreed on trying a joint-venture-style collaboration. Seven months later, Zervant's online invoicing app was released in Belgium under the ING brand. In 2017, the Bank will launch complementary products inside the solution. The relationship is thriving, but that's not to say the two will live happily ever after.

"We want to bring our partnership to another level, but many things can happen," said D'Hondt.

"New investors might enter the picture. We want to work together in the long term but are focusing on the short term."

Indeed, from conversations with people at ING and their counterparts at 'their' fintechs, the picture that emerges is one of ever-changing sands. Fintech partnerships are fragile. Everyone agrees. To make a 'fintech marriage' work, each side needs to be candid and transparent at all times and never take their eye off the goals that brought them together in the first place.
A human challenge
In the last year, ING has hooked up with more than 65 fintechs in a wide range of areas, from mobile payments and instant lending to online invoicing, automated customer onboarding and digital platforms to manage loyalty programmes. The purpose is to offer customers the kind of experience they expect in today's digital age, and better products and services.

"One day I might meet with two guys in their 20s who have started a blockchain in their apartment. The next day I'll be meeting with the founders of a one-billion dollar unicorn," said Benoit Legrand, ING's head of Fintech.

"Every fintech is amazing."

No matter how large or small, ING always looks for the same things in a potential partner: a good reputation, a strong management team and commercial success of their product or technology. But the most important criterion is whether both share the same vision and values in managing customers, time and people.

Things can go wrong, Legrand said, when one partner expects the other to bring more to the relationship.

"I've seen partnerships where the bank was arrogant, saying: 'These are our conditions or we walk away.' But also cases where a fintech says, 'You're the dinosaur. You don't get it and you can't make it. I'll show you the way.' If you don't look at the diversity as a source of enrichment for both sides, it doesn't last."

But even with a shared ambition and vision, the day-to-day mechanics can be challenging. Much like a couple that returns from their honeymoon and settles into the unromantic routines of daily life.

Legrand: "While a fintech marriage may seem like part of our digital transformation, it's ultimately a human challenge."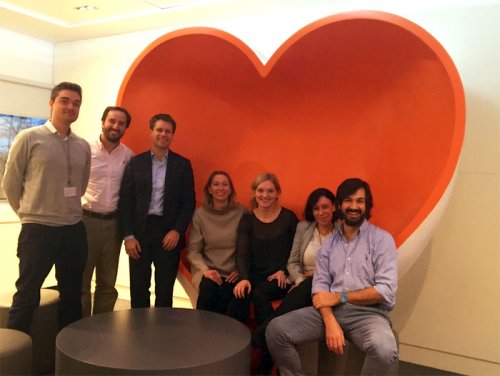 Beauty contest
"Sometimes we hate each other, sometimes we love each other," said Joe Bloemendaal, vice president of sales for EMEA Mitek, which is helping ING build an online customer onboarding solution.

"But it's never personal. It's the processes we have to go through."

ING found Mitek (formerly IDchecker): a Dutch start-up for identity verification, a few years ago when smartphones started to become the device of choice. ING had a dream: to offer a consumer loan on a digital device in five minutes in a responsible way, in all of its retail countries. To make the dream come true, ING would have to automate the end-to-end consumer lending process, including customer onboarding, which has always been a heavily paper-and face-based process.
ING scanned the market and held a 'beauty contest'. ID Checker (which had meanwhile been bought by Mitek, a listed US technology group) won. Mitek's technology allows people to capture different types of identity documents with their digital device and send the image to Mitek for automatic or expert verification.

The Orange Sharing team at head office sought interest from the local countries. Now the technology has to prove itself in a real customer environment.

Whereas Koskinen and D'Hondt describe ING and Zervant's relationship as an early-stage marriage, Mitek and ING are yet to tie the knot.
Living together
"We've just passed the dating stage and started living together with the intention to get married," said Irina Shavgenia from ING's global consumer lending team in Amsterdam, who has worked with Mitek from the beginning.

"As in any relationship, you have to build it and prove you can continue working harmoniously together. Maturing in the relationship together is important, otherwise it might fall apart."

Bloemendaal remembers some intense moments when his technical guys delivered a demo app that didn't have all the functionalities that were promised to ING.

"But once you get the technical people in the same room, everything works more quickly. Then the 'techies' start forming a relationship, then the compliance people..."

It's these strong personal relationships that usually save the day and keep the partnerships on track. But of course, the success of a partnership depends on cooperation between the central and local teams in the business units, who do the actual implementation.

These individuals are at the front line of every fintech relationship. Managing the internal politics, calming people down when things don't go as expected, sorting out misunderstandings, and going to great effort to get things done. These things move us closer to the common goal of having a positive impact on ING's customers.

Bloemendaal sees that moment approaching.

"I love the fact that we have gone live. In a half a year, if ING says 'this is good technology', we can get married."