Can you afford to retire?
27 February 2019
...

min read
Listen
People in Europe, the USA and Australia could be sleepwalking into long-term saving and spending problems. ING research shows that more than half of them worry about having enough money in retirement.
This is an External video.
This video is unavailable because of your cookie settings. Accept cookies and the video will be available.
The study of nearly 15,000 respondents in 15 countries (including 13 across Europe) suggests that the notion of a 'traditional retirement' is quickly becoming obsolete. Almost a third of those not yet retired don't know when they will retire, while an additional 11 percent believe they will work for the rest of their lives.

Many struggle to make ends meet. Two-thirds of Europeans who have no savings tell us they simply don't earn enough to create a buffer for the future. For those who have savings, 42 percent indicate they have no more than three months' take-home pay put aside.

"These findings shine a light on the true extent of the problems many face in reaching long-term savings goals. Most people across Europe report that they track their day-to-day spending in some way, but many still agree they face financial challenges, such as expecting to need to earn in retirement," said Jessica Exton, behavioural scientist at ING.

ING's findings also reveal that only 21 percent of people in Europe use mobile apps for making investments, while only one quarter use them to view long-term investments. According to Jessica we need technology to shift attitudes towards retirement and more importantly, change behaviour.

"Building positive financial habits through the use of technology may lie in day-to-day support, rather than facilitating longer-term planning," she said.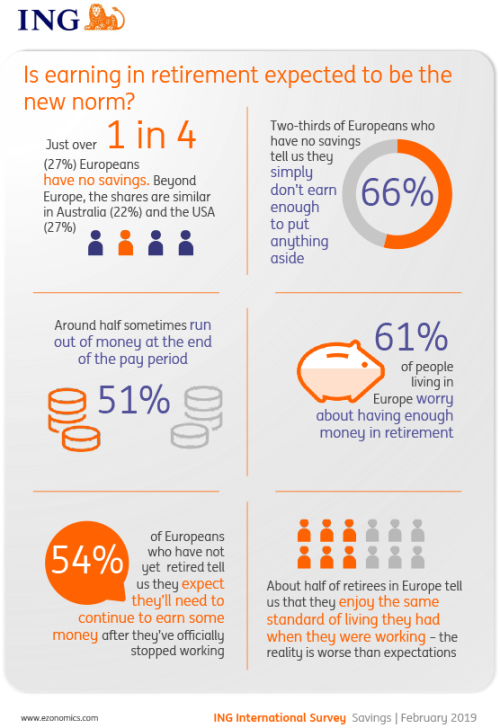 The ING International Survey is conducted several times a year to gain a better understanding of how people in Europe, the US and Australia spend, save, invest and feel about money. The full report (PDF 1,46 MB) on savings can be found at www.ezonomics.com/iis.
---