How ING and UNICEF help Erjona look towards the future in Kosovo
12 April 2017
...

min read
12 April 2017
The narrow streets of the remote village of Shala in Kosovo are deserted. Fifteen-year-old Erjona Karpuzi is one of the few people who show themselves on this sunny afternoon.
"I want to make a difference in our village—I want it to be better for everyone here," said the girl, who is part of a group of young people working to improve living conditions in Shala with help from UNICEF and ING.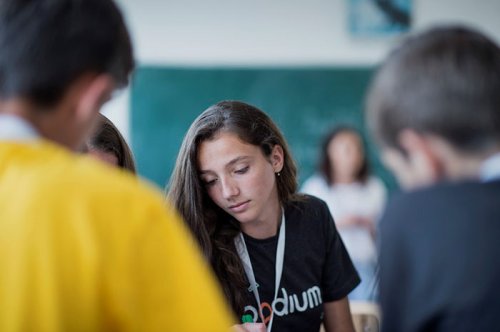 Erjona and 23 boys and girls signed up for UNICEF's Innovations Lab Youth Empowerment Platform's (YEP) Podium project. They call themselves "Towards Future".

"Our village is small and isolated and there is no town nearby where we can go to a sports club or take a course. There are simply no opportunities here for us," says Erjona.

The group plans to set up a youth centre where kids from the village can come together. They want to offer activities that they don't teach in school, like English and computer classes.

The project is part of UNICEF and ING's 'Power for Youth' partnership, which aims to give adolescents in six countries the skills and tools they need to improve their future and the future of those around them. In 2016, a cumulative total of 95,227 adolescents had been reached since the partnership began in 2015. The aim is to empower 335,000 adolescents in six countries by 2018.

Role model
The Innovations Lab in Kosovo is a role model for other UNICEF countries. It provides skills-building workshops, access to equipment, seed funding, co-working spaces, support for innovative technology and strategies, and links to public and private institutions in Kosovo.

"We teach participants in an interactive way how to develop themselves so that they play to their strengths," said UNICEF staff member Hana Sahatqija and coordinator of YEP.

"They learn, for example, to set up and lead projects, to maintain contacts with policymakers, but also with employees of local businesses and organisations. To do this they also get all the tools to advocate for themselves and their plans with the aim of a better and more cohesive community. We do everything to help them stand strong."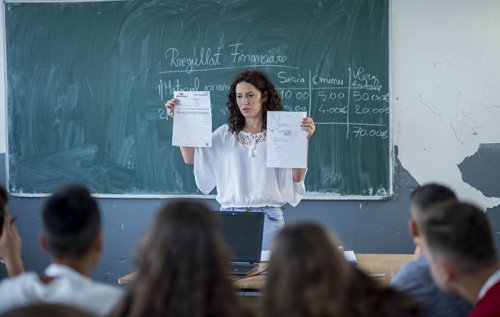 Her colleague Arbnore Berisha adds: "Previously, these boys and girls did not think they could change something in the community or that someone would listen to them. Now they know better. All youth participating in our project have well-developed plans about what they want to achieve in their community and they know how and to whom to lobby to get results. "
A budget, too
Besides the various training all participating groups are given a budget of 500 euros. In Kosovo, one of the poorest countries in Europe, this is a huge amount—equal to an average salary of two months. This means they can do more than develop and implement their plans, they really learn to deal with money and budgeting.

To take the next step and be able to get additional funds from local government, 'Towards Future' will register as a foundation, with help from UNICEF and the Innovations Lab. This is a great success in such a short time.

"We have learned so much: how to develop campaigns and make plans, how we map out the problems and needs in our community, but also very important, how we manage project budgets and keep financial records," says Erjona.

"This is something we knew nothing about, because we simply don't learn stuff like that at school."
Charitable donations to UNICEF
in EUR thousands
2016
2015
2014
Donation
2,988
3,059
2,784
Cumulative Total
35,499
32,511
29,452
Reach through UNICEF programmes
2016
2015
2014
Adolescents reached
47,810
47,417
0
Cumulative Total
95,227
47,417
0
Children reached
18,040
92,970
Cumulative Total
1,000.000
981,960
These figures are from our 2016 Annual Report.