ING and Minna Technologies launch new subscription management service
29 June 2020
...

min read
ING in Belgium has entered a partnership with Minna Technologies to give their customers the opportunity to manage their subscription services without leaving ING's digital channel.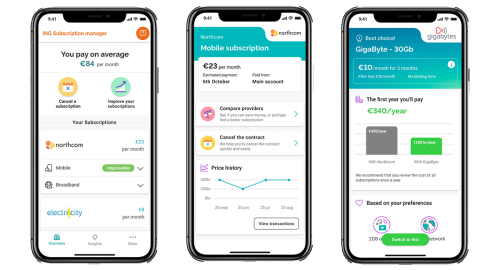 The new service not only provides Belgian customers with a clear overview of all subscriptions, but also allows them to cancel existing subscriptions and improve them by switching to better alternatives.

The partnership is a continuation of Minna Technologies' participation in ING Labs Brussels' 2019 programme where a proof of concept was completed to demonstrate the value of subscription management in the Benelux region.
Impactful
Olivier Guillaumond, global head of ING Labs & Fintech's said the collaboration is an example of impactful fintech partnerships that we aim to scale within ING.

"It will offer a differentiating experience to our customers by allowing them to have a better insight into their subscriptions and save millions of euros via cancellation and fully automated switching services.

"This partnership is yet another great outcome for ING Labs Brussels," said Olivier.
Forward-leaning
CEO of Minna Technologies Joakim Sjöblom said we are beyond excited to partner with such a forward-leaning bank as ING.

"We have been very impressed by their innovation speed and look forward to providing new value to their digital banking customers. Given ING's multinational presence, we have a great opportunity to help millions of customers in these uncertain times."
Related stories