ING chooses architects Benthem Crouwel for construction of new head office
22 March 2016
...

min read
22 March 2016

ING has selected Benthem Crouwel Architects to design its new global head office in Amsterdam-Zuidoost. Benthem Crouwel was recently involved in the redevelopment of Rotterdam Central station and Amsterdam Central station, the Stedelijk Museum Amsterdam and, closer in Amsterdam-Zuidoost, the Ziggo Dome.
On 1 July 2015, ING announced that it would be vacating its current head office at Amsterdamse Poort in 2019. The new head office, located at Frankemaheerd in Amsterdam-Zuidoost, will have a gross floor area of approximately 40,000 m2, considerably smaller than ING's current head office. The new ING head office will be constructed by a consortium of OVG Real Estate and G&S Vastgoed.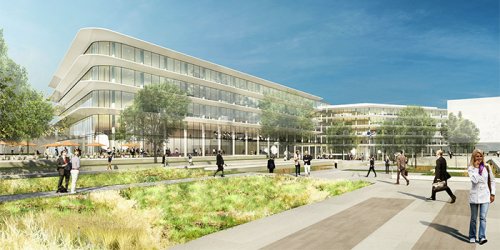 Connected to its surroundings
ING wants its new head office and the surrounding area to be easily accessible. It needs to be a vibrant working environment, in a green setting. Benthem Crouwel has developed a preliminary design in line with ING's customer-focussed and innovative Think Forward strategy. The building will have five storeys. ING's aim is for construction to comply with the highest sustainability requirements, including the use of materials, health, waste and energy consumption. The details of the plan are still being developed.

ING wants to promote flexible working, making it easy for staff from different teams and the various ING offices in Amsterdam-Zuidoost to work together. Workspaces will be created in the building and in the surrounding offices to facilitate collaboration. The office will include an 'innovation café', where ING can display new products and customer concepts.

According to the plans, there will be a campus-style environment, with lots of greenery, with the aim of linking together the location and environment and making it easily accessible.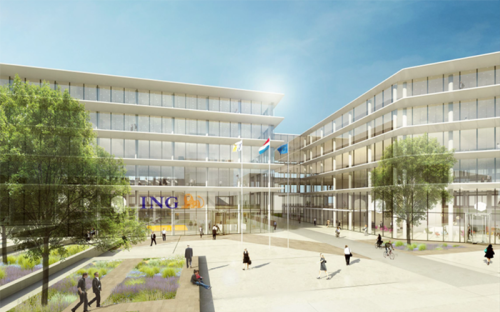 ING's current headquarters, Amsterdamse Poort, will be transformed into a multifunctional programme with more than 500 apartments and various social and other facilities.