On the move
01 July 2015
...

min read
Amsterdam, 1 July 2015

ING is on the move. The company's head office, that is. ING plans to move its headquarters to another site in Amsterdam's Southeast in 2019, when the lease on its current building, Amsterdamse Poort, located in the same area, expires.
Smaller size
On 30 June, ING signed a contract to buy the 'Frankemaheerd' site and will work with developers to build a new head office. The current buildings on this location, which measure around 40,000 m2 have been mostly unoccupied and unused for some years. They will be replaced by the new head office with a total floor space of around 24,000 m2 - much smaller than the Amsterdamse Poort building at 52,000 m2.

"ING requires less office space these days as there are fewer head office employees following our programme of divestments and other organizational changes. At the same time, we are changing to new, more flexible ways of working, with more emphasis on working in different locations including the home," said Ralph Hamers, CEO of ING.

"In searching for a new location, we worked in close cooperation with the municipality of Amsterdam," Hamers continued . "The Frankemaheerd site is an excellent location as it is situated near the shopping centre and residential precinct in Amsterdam Southeast, where many of our other offices are located. We are among the community which includes our clients and many other stakeholders."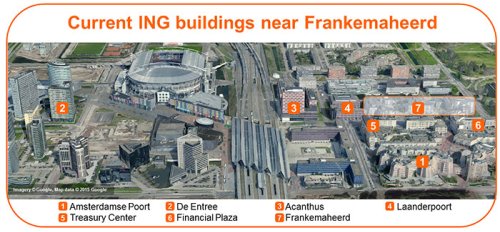 Campus style building
The new location will reflect ING's Think Forward strategy and branding. ING plans to develop the new site in line with the company's entrepreneurial tradition, emphasising innovation and creativity. ING´s Think Forward strategy puts strong emphasis on empowering people to stay a step ahead in life and in business. To make this difference for customers, a strong performance culture is required.

To foster a collaborative, agile way of working, the building's design will enable employees to cluster together in teams to work on various projects, which innovate and bring change. In this regard, ING is seeking to develop a campus style environment, where people feel energised and inspired. ING also wants the building to be energy efficient, open and transparent, and attractive as a long term location for possible use by other tenants.
Roots in Amsterdam Southeast
ING together with local authorities has invested heavily over the past 30 years in helping to develop Amsterdam Southeast, an area otherwise known as Amsterdam Bijlmer. In 1987 the current head office was built, officially called ´Amsterdamse Poort ', but affectionately known as 'The Sandcastle' because of its sloping sand-coloured walls. At the time the building brought new perspective to the Amsterdam Southeast area. Over the years, many of ING's other operations have come to be housed in buildings in the vicinity (see picture).

The Amsterdamse Poort was designed by the Amsterdam-based architect firm Alberts and Van Huut. Its design makes extensive use of water, gardens and natural materials such as wood. The building consists of ten towers, in two blocks of five, which are connected by a 350-metre long walkway that extends through the entire ten towers. The towers vary in height from three to six floors.
Future of Amsterdamse Poort
ING doesn't intend to turn its back on the Amsterdamse Poort. The bank has been in discussion for some time with its owner and developers. A project group including the local government authority has been established, which is examining various scenarios for the future of the building. This could include a change in the internal structure of the building which would make it suitable for multiple business tenants and residential accommodation.

"ING will continue to work with the local authorities on different scenarios for the future of the building," Mr Hamers said. "We very much want to continue to have a role in developing and bringing new perspective to Amsterdam's south east."
Related stories