ING joins industry, unions, NGOs, government in fight to protect human rights
28 October 2016
...

min read
28 October 2016
ING today joined the Dutch Banking Association (NVB) together with other banks, unions, NGOs and the government in the Netherlands in a commitment to work together to improve human rights around the world.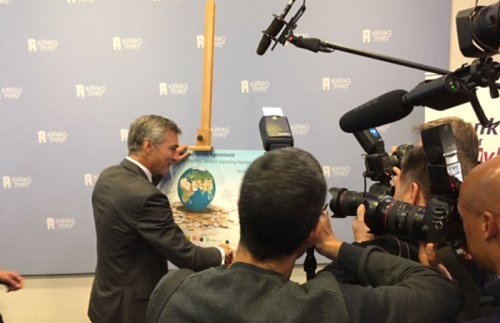 A total of eight parties signed the covenant on international responsible business conduct, with 13 banks based in the Netherlands signing a declaration of adherence. The agreement aims to ensure that global corporate and project finance done by Netherlands-based banks protect and improve human rights in areas including labour practices, freedom to form labour unions, child labour and land rights.
This is a unique cooperation. Banks are in the rare position of being connected to sectors via our clients, and many, including ING, are already using this influence to address human rights. At the same time, NGOs have access to the local context in countries where there may be human rights issues, and the government has a network of embassies that can establish contact with other governments.
The goal is for all parties to pool their knowledge and experience, learn from each other, and to identify human rights risks as well as actions that can mitigate them.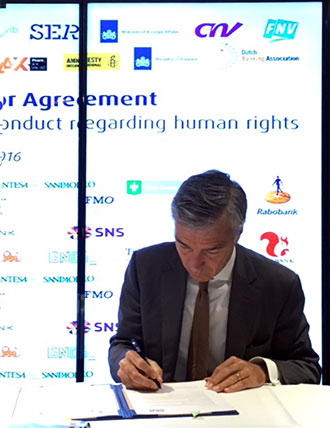 Positive change
Taking steps to address human rights isn't new for ING. We work to effect positive change in human rights through our involvement in organisations such as the Thun Group, the OECD Advisory Group and as part of the steering committee for the Equator Principles. We also have a human rights policy in our Environmental and Social Risk Framework, which is implemented in each of the 42 countries we're based in.
"At ING, every single corporate client and every single transaction is assessed, monitored and evaluated on potential social and environmental risk," said ING Bank Vice-Chairman Koos Timmermans.
"But It's not always simple for banks, as our involvement is indirect (through clients) and we're far away from the factories and other places where human rights may be violated. We expect this covenant to improve our knowledge and network, so we can ultimately make better decisions that will really help people."
Read more about ING and human rights in our human rights statement.