ING's participation in the World Economic Forum in Davos
25 January 2016
...

min read
25 January 2016

ING CEO Ralph Hamers and Vice-chairman Koos Timmermans attended the 2016 annual meeting of the World Economic Forum in Davos.
Most visible activity was the interview Ralph Hamers gave to CNBC on Thursday 22 January, focusing on the current trends in the banking sector. Among the many other meetings in Davos, two themes stood out for ING: innovation and the circular economy.

The official theme of this year's forum was 'The Fourth Industrial Revolution', where multiple (technological) developments come together, making new applications possible, disrupting current business models and in theory enabling everybody to start his or her own successful business.

In the context of financial services this was widely linked to the emergence of fintechs. One of the priorities in ING's Think Forward strategy is to increase the pace of innovation to serve changing customer needs. In line with that direction ING participated in panel discussions on 'the fintech revolution', 'the future of digital business' and 'disruption as a survival technique'. These sessions and other meetings strengthened ING's conviction that the way forward is by working both with dedicated internal teams and with external partners and startups.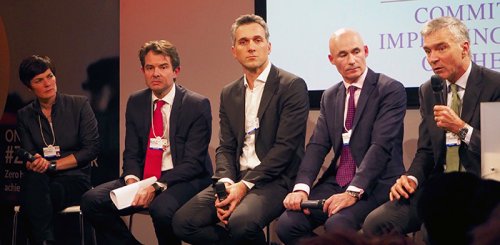 ING also participated in several meetings on the circular economy. This transition from an economy based on 'take, make and waste' to the ideas of 'reduce, reuse and recycle' was the focus of a discussion session including Ellen McArthur and the CEOs of Philips Lighting and Tarkett.

ING's message there was that, as this new concept takes hold, it will have consequences for the way many activities are financed. In line with ING's strategic priority to go beyond traditional banking, it is embracing the current developments, is taking steps to apply the circular economy principles and is investigating how it can translate these effectively into viable customer solutions.