Insurance, done direct!
16 July 2020
...

min read
When it comes to disrupting the financial industry, ING is at the top of the tree. The introduction of ING Direct around the world saw the bank become the poster boy for simple, trustworthy and tech-savvy financial services.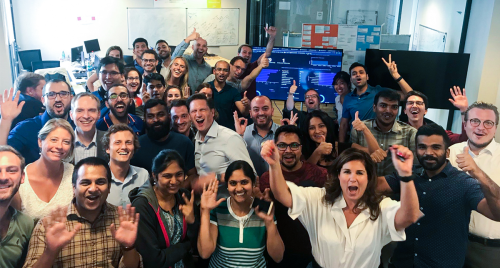 But ING's ability to disrupt the status quo hasn't stopped there. Its move back into the insurance business with partner AXA and other insurers is shaking up a sector ripe for disruption. In fact, there is an eerie familiarity between this move and the introduction of ING Direct 20 years ago. A customer-first mentality, changing industry standards, rapidly built, behaving like an fintech and driven by technology. Here are the five similarities between the two.
1. Customer needs first
ING Direct became synonymous in the new millennium for simple, easily understandable products and direct distribution. The provision of non-life insurance products is following in a similar vein. Suzanne Akten, managing director of the ING AXA partnership said one of the objectives of the collaboration was to make it simple for customers to get the protection they need so they can remain a step ahead in their lives.

"We are building the possibility for customers to easily aggregate all of their protection needs, including for their home, travel, car and health, into one simple, online protection wallet that they are in control of.

"Our philosophy is no gaps and no overlaps. It's a bit like giving them Lego blocks they can use to personalise their own risk cover. Simplifying insurance is challenging, but necessary to keep people engaged in protecting their lives and their dreams."
The ability to build your own policy and a dramatically simplified process, such as the one launched in Italy where a customer can get a building and contents insurance answering three questions only, it's no wonder customers rate the service 4.75 out of five for advice and satisfaction!
2. Getting the industry to change its ways
Just like ING Direct who entered a heavily regulated, ultracompetitive, traditional market at the dawn of the internet age, ING's re-entry into the insurance market promises to be equally disruptive.

In 2017, when ING and AXA discussed a possible partnership, less than one percent of the aggregated European insurance market was provided via digital bancassurance. An industry dominated by agents and brokers resulted in historically complex products. It's only in markets where a significant regulatory change has happened, such as, the Netherlands, that digital insurance has grown at a quicker pace.

"It's not that customers don't want digital insurance. They just want insurance that is simple and tailored to their needs. Millennials simply won't buy products they don't understand, don't trust and are not personalised. And opting out of buying insurance is a real situation that becomes a social risk for everyone."

"So, we set up this partnership to crack personalised digital bancassurance. It is ING's responsibility, as well as a social responsibility, to make sure the customer knows what protection they need, they understand how to buy it and they only buy what is necessary.

"We're one of the first to take this approach – offering an ecosystem of mobility, living and wellness 'Lego blocks' through a global platform."
3. Rapid growth
A feature of ING Direct was that by having no branches it could pass these savings on to the customer by offering high interest rates and no fees. This model resonated so well with customers that ING Direct grew to be the largest direct bank in the world. Such rapid growth has also been a feature of ING's bancassurance initiative, albeit still in its infancy. The number of employees has expanded significantly in both the joint central team and in local entities.
4. Behaving like a fintech
It has often been said that ING Direct was the world's first successful fintech. According to Suzanne, ING's bancassurance set-up behaves very much like a fintech as well. So much so that they work jointly from a fintech space in Paris, and even use ING's PACE innovation methodology to develop customers' protection needs, a process normally used by in-house start-ups. They've also introduced an agile Way of Working (WoW) where project teams are not organised by department, but rather by consumer need.

"Our agile model and WoW is needs-driven and lean. We are completely focused on bringing tangible value to customers through the ING mobile app and direct model. The global platform and central team build assets to reuse and optimise protection products across multiple countries."
5. Technology-driven
Technology wise, things have obviously moved on since the late 1990s and early 2000s where ING Direct offered all their services via internet or by telephone. These days its more about platforms, using data to improve the customer experience and being digital first.

ING has built a global front-end insurance platform that is plugged in to various ING business units and that connects AXA through application programming interfaces (APIs). In the future, other providers may also be able to offer connected services on the platform.

The platform not only provides customers with an end-to-end digital experience, but also allows ING to unleash its four billion digital engagements with customers to offer a much fuller customer proposition.
Related stories