Setting the PACE
6 May 2016
Every new product or service begins with a great idea. But how can we be sure it is the right idea? Go out and talk to customers first. It's the essence of PACE, ING's new way to innovate.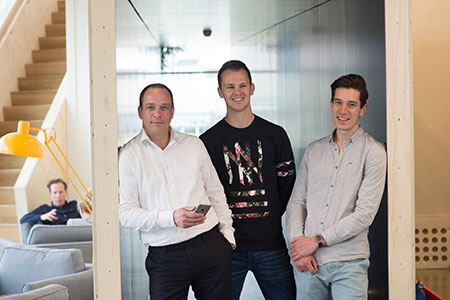 When ING's Jeroen de Lange and Michel Smook were looking to develop their idea for a new service, they left the office and hit the streets. The entrance to the Chamber of Commerce building in Amsterdam, to be precise.

There, they asked budding entrepreneurs who were leaving a seminar in the building, for a few minutes of their time to have a coffee and answer some questions.

It was all part of ING's new approach to innovation called PACE.
No financial dashboards
Jeroen and Michel are the creators of Startergy, a new service that makes starting a business easier and faster. When developing their idea that eventually became Startergy, they had in mind a complex application with many financial dashboards and planning tools.

Their time spent talking to entrepreneurs outside the Chamber of Commerce was well spent. They were on the wrong track.

From their discussions, it was clear start-up entrepreneurs wanted just three things to get going: a bank account, a website and a listing at the Chamber of Commerce.

So that's exactly what Startergy delivered. This became the core part of their 'minimal viable product' offer. This is the essence of PACE. It is all about establishing a pragmatic standard for getting the right services to market faster, by doing what start-ups do: listening and not investing in an idea unless they are sure it's the right idea.

Keeping up with the fintechs
"PACE enables us to keep up with fintechs and other competitors that are going to transform our industry big time," said ING's Hugo Raaijmakers, who recently joined ING to speed up the pace of innovation.

In fact, it was the fintech challenge that drove the development of PACE, which comes with its own vocabulary (see glossary).

For example, there is the 'accelerator', where customer feedback is used to scale up a new service. This is all about constantly validating the assumptions (is this what customers really want?) with simple experiments, such as standing outside the Chamber of Commerce.
Growth hacking
"You can run great experiments online as well," said Ria Escher, head of the Innovation Transformation team. "We call it 'growth hacking'. Just put a banner with your idea on Facebook and see if people click. It costs only EUR 1,000 to reach a huge sample of people. If they don't click, you'll never sell your product."
Modest and customer-oriented
The traditional way of innovating meant assuming companies knew what is best for their customers. "PACE forces us to be truly customer-oriented. It brings us much closer to customers," said Escher.

One good example is online charity platform Whydonate, an external start-up which recently emerged from the ING Innovation Studio.

"When we started two years ago we launched an app that worked on Android and iOS," co-founder Niels Corver says.

"Nothing happened. It turned out that no one wanted an app on their phone to support charities. So then we started an online platform, and that worked. We had spent almost all our money on the app by then. We were lucky to get through."

"You learn to work lean here. Run your experiments, make mistakes quickly and cheaply and learn fast."
Related stories