Pinar Abay - ready for a new challenge
20 December 2019
...

min read
Listen
This morning, ING announced that Pinar Abay will become head of Market Leaders and a member of the Management Board Banking. After heading up ING in Turkey for the last eight years, Pinar will move to Amsterdam and lead our businesses in the Netherlands, Belgium and Luxembourg. We caught up with Pinar about new challenges and what defines success.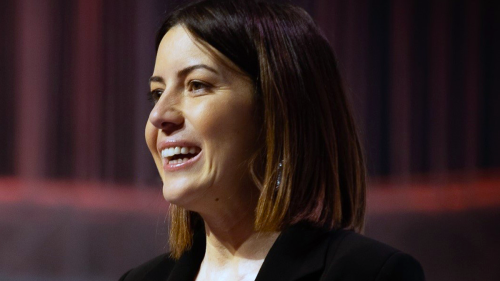 You're leaving ING in Turkey after eight years during which the business has grown and employee engagement has risen considerably. How do you look back on those years?
First of all, I'd like to thank every single member of the ING family in Turkey for being with me throughout a challenging, yet amazing journey. I'm very proud to be a member of that family and proud of what we've accomplished together, with the help of everyone in the company. I strongly believe in teams and culture. Only through team work you can achieve great things. Together with all of my colleagues we created the best bank in Turkey, despite all kinds of challenges.

I joined ING in 2011 when I was only 34 years old, as the CEO of ING in Turkey with more than 6,000 employees. I was excited to join even though people were telling me that the job would be super challenging and chances of success quite low. But I believe life is not worth living if you don't dare to do the impossible. That's my purpose in life.

I dreamed about creating a company people want to join not because of size, or pay, or title, but simply because they love the culture. Today, ING in Turkey has one of the highest employee engagement scores, even compared to companies outside the banking sector. We've one of the highest customer satisfaction scores and are one of the best performing banks, even though we don't have the long history as some other banks in Turkey do. Something all employees in Turkey can be proud of!
Are you looking forward to your move?
I think it was time for me to get out of my comfort zone. I'm ready to take on a new big challenge and excited to join this large new family in Market Leaders, dividing my time between Amsterdam and Brussels. My son and daughter will go to school in Amsterdam, so that will be our family's homebase. But as a family, we want to learn about both cultures so we'll spend a lot of time in Belgium as well. There'll be challenges of course, as we leave many loved ones behind. But we'll make new friends, my husband and the kids are super excited and we plan to make the Benelux our new home, and that includes Luxembourg!
How would you describe this new home to your friends and family in Turkey, what do you tell them?
Everything is very organised, peaceful. You feel the social equality and welfare across society. It's amazingly diverse, as I walk on the street I hear many languages. I lived in San Francisco and New York in addition to İstanbul. Amsterdam and Brussels are quite smooth compared to what I'm used to. I think it brings more peace of mind.
What is your leadership style? What can people expect from you as a manager?
My style is both challenging and caring at the same time. People will notice I expect them to grow and stretch their boundaries. I'm a big believer of personal growth at any stage in life. Maybe that is because I deeply care about people. I care about how they feel and how they grow, moving out of their comfort zone.

I also want to add that to me integrity is above all. When we work hard on realising our targets, whether they're about personal growth, commercial results or any other set KPI, there's one goal that trumps all other: integrity.
ING in Turkey is a growth business, unlike our business in Belgium and the Netherlands where ING is a market leader. Is a different recipe needed for success?
I think these two businesses are very different in scale but there are similarities too. They are both going through a transformation. Growth is not the metric to define success. Actually, I've never measured success only on financial metrics. Success is about creating a culture in which talent is nurtured, where people feel at home and can be themselves. Success is to have a culture in which people feel free to challenge each other to do better. Success is about doing good for our society, and leaving positive marks in everything we touch. Once you reach that level of success, financial results will always follow in a sustainable way.
Pinar Abay was born in Ankara, Turkey, in 1977. She holds a bachelor's degree in economics from Bilkent University, Turkey, and an MBA degree from Harvard Business School, USA.

Before joining ING, Pinar worked in Istanbul, San Francisco and New York for McKinsey & Company, serving US-based banking clients. On 1 October 2011, she was appointed CEO and a member of the board of ING in Turkey. In 2016, Pinar became a non-executive member of the board of ING in Belgium.
Related stories