R2-CO2? Robot helps buildings save energy
25 June 2018
...

min read
25 June 2018
From leaving the heat on in the summer to leaving the lights or air conditioning on when no one's there – buildings waste about half of all the sustainable energy generated in the Netherlands.
That's why we're introducing the ING Energy Robot.

The energy robot detects the energy being wasted in a building with algorithms that compare data from a building's 'smart' energy meter to a benchmark of that specific building. This will identify up to 15% of energy saving opportunities.

"Many buildings consume considerably more energy than might be expected based on their energy label," said Peter Göbel, director ING Real Estate Finance. We're introducing the robot "to do something about it."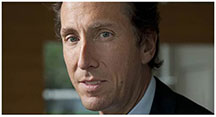 ING Real Estate Finance's Dutch portfolio consists of some 30,000 buildings with more than 17 million square meters of real estate. The robot could help them save a total €30 million in energy costs and 92,000 tonnes of CO2 emissions annually, without the need for them to make extra investments.


Hard to see
Although the detection and prevention of energy waste in buildings is by far the cheapest way to reduce CO2 emissions, it often has no priority. That's partly because it's hard to see what's being wasted.

The robot will help building administrators, maintenance workers, energy companies and occupants know how to improve energy management in their buildings quickly and cheaply. Like shutting off the lights or air conditioning when no one is there. As a result, less energy and maintenance is required, machines age less quickly and unnecessary CO2 emissions are avoided.

The ING Energy Robot is the next step after the digital online sustainability scan tool, launched by ING Real Estate Finance two years ago.

Related stories
---