The Cumulus effect
10 October 2019
...

min read
Listen
Amsterdam's new innovation district has a name: Cumulus Park. It is a place where knowledge and talent accumulate to take innovation to the highest level.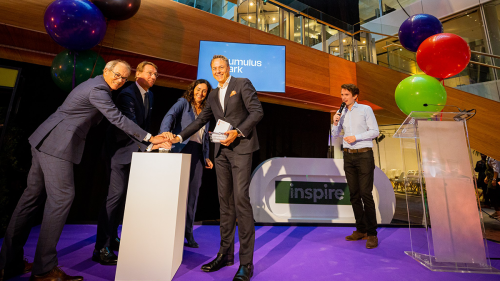 Cumulus Park is an incubator for collaborative innovation. It offers a network that combines tools and space – including ING's newest office building – to attract and inspire the brightest minds from various disciplines.

"The benefits of having players from multiple industries and backgrounds in one place is that it will lead to solutions and services that can't be created by a single party," said Ralph Hamers, who spoke at the official opening of the district yesterday.

He believes that building skills and expertise in mastering partnerships and open collaboration are essential for success in a world where digital platforms are becoming the dominant models governing business and social interaction.

With innovation at the heart of ING's strategy, setting up the district is an important milestone. Despite ING initiating the concept, Ralph stressed that Cumulus Park is an open district where all are welcome.

The district's activities will first focus on the themes of digital identity and urbanisation, varying from meet-ups around specific topics such as coding or blockchain to innovation acceleration programmes, education and research.

In addition, Cumulus Park will also further position Amsterdam as a city of collaborative innovation, attracting the finest talents from all over the world.
Related stories