New HQ design receives highest sustainability rating
16 May 2018
The design of ING's new global headquarters has been awarded the highest sustainability rating.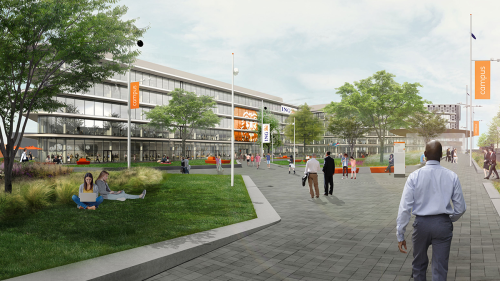 ING has had this ambition since the project began. Sustainability has played a large part in how the new headquarters was designed and is being built. For example, the thousands of tonnes of concrete from the old building are being recycled to build the new one, with the rest being used for a new nearby highway.

The 'outstanding' rating by renowned sustainability rater BREEAM-NL in the category 'new build and renovation' is based on scores over nine categories: management, health, energy, transportation, water, materials, waste, use of land and ecology, and pollution. The building will be rated again once it's completed.

"We're really happy with the 'outstanding' score in this phase," said Thomas Ummels of OVG Real Estate, the company constructing the building together with G&S Vastgoed.

"We're working intensely together with our partner G&S Vastgoed and ING to deliver a building in the second half of 2019 that again receives the highest rating and thereby contributes to the sustainability of Amsterdam and the health of the building's employees."

The new headquarters will be part of a campus and have two buildings, connected to each other with a bridge on the second floor and each with an atrium. There will be a park outside with a pavilion containing a restaurant, which will be open to employees and locals also in the evening and on weekends.
Related stories