The Olympian task of transforming ING
16 February 2017
...

min read
16 February 2017
In October 2016, ING announced the next steps in its transformation to a global digital bank. COO-CTO Roel Louwhoff is the person tasked with managing this transformation. In the transformation 'war room' at ING's head office in Amsterdam, he explains what is needed and why he's confident of success.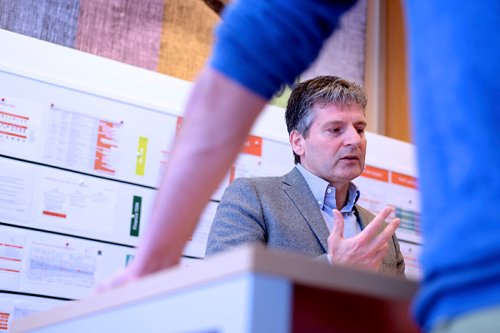 In October 2016, ING announced the acceleration of its Think Forward strategy. Living up to its customer promise to "keep getting better", ING unveiled a number of initiatives that will eventually result in a single global platform for financial services, with one consistent experience for all customers, wherever they are. At the same time, ING's chief operating officer (COO) Roel Louwhoff gained an extra job title: chief transformation officer (CTO). As CTO, his task is to unite ING – its platforms, processes, products, priorities and people – to help overcome local differences and build one global digital bank.
Obeya
Louwhoff runs ING's transformation from the Obeya room at head office in Amsterdam. Obeya, which roughly translates as "war room", is a Japanese programme management methodology designed to speed up communication and decision-making. Toyota first started using it in the car industry. Other industries adopted it and now ING is one of the first banks with an Obeya room. The Bank's Management Board is even having its regular update meetings in the Obeya room.

Louwhoff explains: "This is the heart of ING's transformation. The purpose is simple: having the full overview of the status of all projects and solving issues quickly. If an issue can't be solved in five minutes, it's escalated to the next level. You immediately see how everything fits together."
An Olympian task
Before joining ING, Louwhoff worked at British Telecom, where, as CEO of BT Operate, one of the projects he was responsible for was the digital communications infrastructure of the 2012 London Olympics. This meant ensuring the data integrity and availability of all TV, fixed-line, internet, mobile and social media communications, as well as hosting the London2012 website and managing data security. His experience of delivering such a mega project on time and within budget stands him in good stead for taking on the task of managing ING's transformation.

"We're moving to a global platform for financial services and we want to deliver one consistent experience to all customers, wherever they are. The only way to do this is by uniting our services, processes, operational models, data architecture, our brand and our people. Sounds logical, right? But it's a huge shift in the history of this company. We need to stop prioritising local goals and instead only think of the bigger picture. And from sharing knowledge where everybody has a choice to use it or not, we now take the extra step by saying: we only build this once."

"We're harmonising our processes, IT and data architecture. Once our infrastructure is the same everywhere, it will become much simpler and much cheaper to develop something in one place and use it somewhere else. We work in modules, with global standards for re-usability, so you can just take what you need and only have to develop what's not yet in the box. This will speed things up tremendously."
Making it in time
Louwhoff acknowledges that two years ago many in the financial services industry were complacent about the speed and scale of change that digitalisation was causing in other industries. Now, that disruption is impossible to ignore. And he is confident that ING has acted in time with its own disruptive transformation.
"ING is one of the first big banking players who have seen this and have started to act. We must remember that Alibaba wasn't created in a few months. WeChat started four to five years ago. And we've only started this journey last year. We will speed things up in such a way that the company keeps functioning, delivering excellent customer service, making good returns, but also works towards our transformation goal. And meanwhile employees need time to adapt to the new reality as well."

"I'm 100 percent certain we will make it. Why? Because we have the vision, the conviction, the innovation power and the people with the qualities needed to tackle these complex issues. We tick all the boxes. I already see the momentum changing wherever I go. People are actively looking for ways to collaborate. We're making it happen, together."