"The future is now" – Ron
09 December 2021
...

min read
Six months ago, Ron van Kemenade became ING's first ever chief technology officer (CTO). It was more than a symbolic gesture. Technology has become essential for banks to stay relevant for the years to come. So how ready are we for the future? And how's life in the board room? An interview with Ron.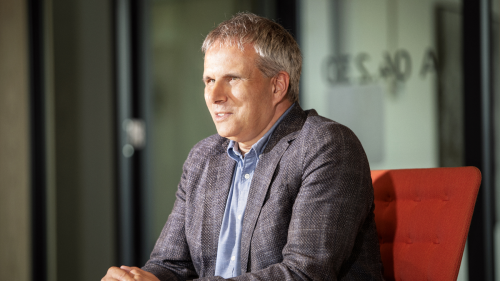 How do you see the future of banking?
Looking at the total banking landscape, it has become more open and complex. New players, including Big Tech, have moved into transactions with services like Apple Pay or Amazon Checkout. Fintechs offer solutions in the areas of lending and even companies like Booking.com have developed their own payment products. New technologies, whether regulated or not, are on the rise, like distributed ledger technology and cryptocurrencies. Then there's customers, wanting to do all of their banking online and in real time, and finally the regulator, protecting the privacy of customers and trying to steer banks on stability. How all of these will interact and what it means for the future of banking, I can't exactly tell. But the trends are clear and it's obvious that we have some challenging and interesting times ahead of us. So, we need to try to find ways to play a leading role.
How should ING prepare for this?
It's not so much a matter of preparing, because the future is today. So, we shouldn't wait for things to happen, but act now. Focus on the things that matter most to customers, like putting new propositions in the market and investing heavily in digitalisation. This requires experimenting, but also listening to customers to get continuous feedback. In addition, we have to make sure that our services become even more resilient, secure and real time.
Are we ready to act now?
On the technology side we are. We've built a global technology platform, which includes modular IT building blocks, shared data lakes and ING's Private Cloud. Multiple countries are using these components both for global and local propositions. These not only allow us to be more efficient and scalable, but also enable us to act quicker in a safe and secure way. For instance, we were able to build a retail bank in the Philippines in just nine months by using global components like Touchpoint. Germany's new investment platform also uses components like OnePam, for storing customer data, and OneGate, for authenticating customers.
It's most important to keep the bank safe, secure and compliant. That simply has priority over the next cool feature.
– Ron van Kemenade
What do customers want as far as technology goes?
They want banking to be digital, personalised and in real time without having to be concerned about the protection of their data. Being personalised does require us to take in a lot of data in real time to provide customers the right offer while at the same time they want their data to be fully protected. So, it's a bit ambiguous.
What's our biggest priority?
It's most important to keep the bank safe, secure and compliant. That simply has priority over the next cool feature. Having said that, it's a balancing act as we also need to continuously adjust products to meet customer requirements and invest in our channels to make them more digital.
What about sustainability? How is Tech contributing to this?
One of the biggest consumers of electricity in the world are data centres. Just to give you an example, all the energy that is needed to support Bitcoin is the equivalent of the energy that a country like New Zealand uses annually. That's huge. I'm not saying we're doing the same, but more digital interactions with the bank require further storage of data and more fully digitalised channels and processes mean more servers in our data centres. They all lead to more consumption of power. That's why we're using 100 percent green energy and we're trying to make our servers as energy efficient as possible.
To remain competitive in a world of tech disruption, highly skilled engineers are essential. Are we winning the war on talent for tech workers?
In some countries yes, especially where we're considered a top employer like the Netherlands and Romania. But in countries where we are less prominent, we need to step up and make ourselves more visible and attractive. That's not easy when you're a small player.
What does ING have to offer engineers?
Engineers like to work with the most modern technology and love to code, so we make sure we offer them the right tools and that they're able to work in an environment where they can do what they love to do. We recently launched an initiative for this, called NextGen Tech.
Why was it important for ING to include technology on the Board?
Technology plays a very important role in the future of banking, so you need someone on the Board who has deep knowledge of the topic. Someone who can put the technology perspective into every single discussion and decision we take. It's also something that is expected from our regulators.
Your domain comprises of Tech, Data Management and the Chief Information Security Office (CISO). How are they interlinked?
There are multiple connections between the domains. For example, many engineers work for the purpose of information security, while our CISO department sets requirements for how engineers work. Data is closely linked to technology as we store it in our systems and use it for our processes.
To become a data-driven digital leader, was it necessary to put them together?
Well, it helps. But becoming a data-driven digital bank is something for all of us. So, all functions should be included.
You started six months ago, what has been your experience so far?
So far, I've enjoyed myself a lot. It's a great team to work with and I enjoy bringing the Tech perspective to discussions. It feels good to contribute to ING and its future.
What do you find challenging?
I want to have a deep understanding of all the relevant Board topics, so I can form an opinion and make a meaningful contribution. There's simply not enough time to go through all of them, so I need to compromise sometimes, which I don't like.
What IT project are you most proud of?
It's not the projects, but the people in the CTO domain I'm most proud of. They keep the bank running and try to make it more reliable and better, every day. I want to acknowledge them for that.
Related stories