Venturing into new territory
25 October 2017
...

min read
25 October 2017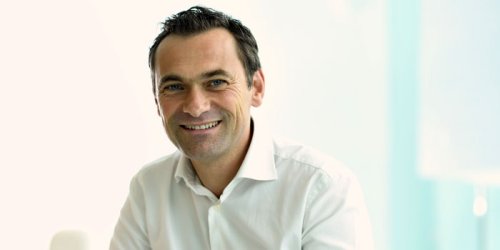 Who are you targeting with this fund?
Two groups. First, the early stage (seed) start-ups that are coming into the so-called minimum viable product or market-fit stage. Those starters are developed internally. This is what we did with Yolt, Payconiq and Twyp.

Then there are the 'scale-up' companies, those that already have a product that is viable, have a turnover and proven technology that can help ING implement its Think Forward strategy faster, cheaper and better. Companies like WeLab, Fintonic and Kabbage. We want to make use of their technologies and agility.
What are you offering them?
Access to over 36 million customers, a strong brand, a proven innovation culture, an international presence, a high level of technical knowhow from employees and, of course, the financial means to fuel their growth ambitions. We might not be as fast as the fintechs, but we have vast experience and knowledge among our 51,000 employees. We're offering them a faster connection for their business and a true partnership that's not only about the investment, but also the strategic value it brings both of us.
How difficult is it for fintechs to find financial support for their ideas?
It depends on what stage they're at. There's a huge funnel of fintechs and in the very early stage it's friends, family and fools! The first EUR 100,000 or EUR 150,000 is often easier to find. But then, you need to prove something and that becomes more difficult.

Once you start to be successful it's much easier to find money. Venture capitalists are sometimes fighting to get in. It's an uneven relationship. But I think they're not just looking for money. They're looking for a brand, for banking knowledge, for distribution power and to scale faster. And this is what we can offer.
What else does ING bring to the table that a normal investor can't?
Take an example like Kabbage. You can bring millions to the table but testing and implementing it in a bank environment with all its compliance requirements and all its rules is something we can do and a pure venture capitalist cannot.
How does ING benefit in the long run from such a fund?
The end goal is to create strategic value for ING. To make the customer experience faster, better and cheaper. Or to get access to customers faster, cheaper and better. Getting into a new environment and learning faster, cheaper and better. Operating faster, cheaper and better. We make investments and want them to be profitable, but contrary to what pure venture capitalists do, the value we seek should come mainly from the strategic development.
Do you apply the same criteria to every business investment or is this gambling money?
Financially, we certainly want to get returns in line with those of market venture capitalists. But this is not the only thing. I see this more as a research and development pool, which we need if we want to transform into 'a tech company with a banking licence'. Tech companies are spending 10, 15 or 20 percent of their revenue on research and development. Pharmaceutical companies do the same and they're not asking the guy who's doing the research whether he's making a profit the day after. It's a different mind-set that we need to learn. A cultural shift. It's about having a long-term perspective and looking at it differently from the traditional business case.
Your strategy, until now, was mainly to build fintech partnerships. Now you're launching an investment fund. Why the change of direction?
I wouldn't say it is a change, it's the next stage of what we've been doing so far. We have 115 partnerships currently running and have equity stakes in about 20 of those. We've also stopped 25 partnerships. So it is about having more means and more effective governance to be able to react quickly.
If you're just funding financial technology companies, don't you miss out on the really radical ideas out there?
Good question. But we're here to help implement ING's innovation strategy, which has three priorities: disrupting the core (infrastructure, products and services), beyond banking and developing platforms. Those are the priorities we concentrate on when making investments. On our furthest time horizon we also look at new business models that don't yet exist. You'll be surprised what we come up with! Think of investments in artificial intelligence or in blockchain technologies, like with the R3 consortium. In areas like these we know big things are going to happen. We don't precisely know what, so we need to bet on different options so that we can shape our future, and not being shaped by others.
How many more investments do you expect in the next five years?
I think at least 20 to 30 with a view to having a final portfolio of about 40-50 investments. Diversification is certainly important, but the areas of business are most important. We cannot put everything into payments or working capital solutions. Lending, financial markets, data management, insurance, investment products and many others are also crucial to our strategy. And this is not only a Retail Banking or Wholesale Banking fund. It's for all of the bank. We also want to help Risk, Finance and HR to reinvent themselves to operate better, faster and cheaper.
Say I'm a fintech and I'm interested, who should I call?
Me! Or anyone else in our team.
Related stories