What's happening at Money 20/20 EU?
03 June 2019
...

min read
Ralph Hamers, speaking about "The secure bank of the future" and the digital solutions we can apply to deal with the increasing risks that come with digitalisation. With his keynote, he kicked off Money 20/20 EU 2019 for ING.
But Ralph is not our only speaker, chief innovation officer Benoît Legrand and CEO of Yolt, Frank Jan Risseeuw, are also taking the stage in the coming days. The ING Café is also buzzing with activity, featuring live podcast recordings with ING experts, a fintech playground where people can meet and greet with fintech colleagues and live content sessions on DLT and AI.

Tuesday is all about the future of banking and beyond banking, while Wednesday is dedicated to our innovation culture. Look out for all the updates here!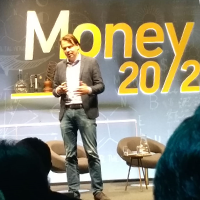 Raisin' their game
Yolt has been busy at Money20/20 EU with two major announcements. In a speech this afternoon, CEO Frank Jan Risseeuw announced a partnership with pan-European savings marketplace Raisin that will provide European Yolt users in-app access to Raisin's savings products.

''It's partnerships like these that really raise the bar in the money management space,'' said Frank Jan.

In a second announcement, Frank Jan announced that Yolt would support open banking capabilities for three new clients. The Yolt for Business API, provides aggregation services to selected ING markets and will now support leading fintechs Payvision, the Netherlands-based global acquirer and payment processing platform and Funding Options, the small business funding comparison platform.

Related stories