"Being open is the way" – Ralph Hamers
07 June 2018
...

min read
7 June 2018
Being open was a recurring theme in Ralph Hamers' opening speech at Europe's biggest largest financial technology (fintech) gathering, Money20/20.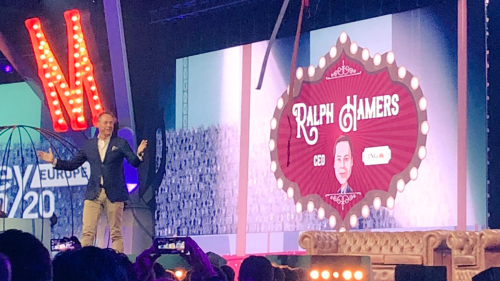 Speaking in Amsterdam on Monday to an audience of over 4,000 people, Ralph stressed the need for digital platforms to be open. As extra proof of ING's collaborative approach to innovation, he announced that ING will open up its new campus in Amsterdam to external fintechs and a range of other external partners.

"There's one particular characteristic of digital platforms that I think is especially relevant to being the bank of the future," said Ralph.

"They are open. Open to individual users and producers. Open to third-parties that provide complementary goods and services. Open to the competition."
Not just your own products
Ralph, who made the conference's opening speech, argued that being open was critical to ING's success and not just because European PSD2 regulation is forcing ING to think this way.

"If you want to be the 'go to' place for financial services, or for services that go beyond banking, how credible are you if you only offer your own products?

"If you truly want to empower customers, you have to provide them with the most relevant offering – even if some of the products and services are not your own."

Ralph said ING doesn't have a monopoly on the best ideas for serving customers in a better way.

"To become a successful platform you need to involve others from outside your own business, invest in them, and get them invested in what you are doing. So we team up with fintechs and other start-ups, to combine our strengths.

Ralph said ING already had more than 150 fintech partnerships, where we were collaborating to improve the customer experience.
Major #ING announcements coming from Ralph Hamers on the #M2020EU Keynote Stage @ING_News #partnerships #open pic.twitter.com/Laq2eFnfWe

— Money20/20 (@money2020) June 4, 2018
New partnerships
He also took the opportunity to announce the partnering of two other fintechs, FinCompare in Germany and with the UK-based Funding Options in the Netherlands. Both will provide SMEs with greater choice in financing their business. An expansion to ING-owned open banking platform Yolt to France and Italy was also made.

On ING's new campus, he mentioned it "will be different from other corporate or university campuses because we will bring every element of the innovation cycle together in one place, creating a true ecosystem".

"We will create an area around our new building in the south-east of Amsterdam, with space for thousands of people. For universities, research partners, entrepreneurs, innovators and corporates from all sectors so that together we take new ideas and incubate them into truly empowering new services."
Café a hit
ING had a major role at the conference with chief innovation officer Benoît Legrand, Yolt CEO Frank Jan Risseeuw, ING Customer Experience Centre head Remco van der Veer and two ING start-ups presenting. Its specially-themed ING Amsterdam Café also proved to be a hit with attendees.
Lots of activity and energy in the #INGcafé at #M2020EU. We're showcasing some of our #fintech partners and our campus plans. There are interviews, podcasts, muffins and coffee. Come and visit us! pic.twitter.com/GmeIEXS9yJ

— ING Group (@ING_news) June 4, 2018
Related stories