ING plans campus for innovators
04 June 2018
...

min read
4 June 2018
ING is building a campus. An urban hub where businesses, academics and innovators from all sectors can work together in an open and dynamic environment that stimulates creativity and boosts invention.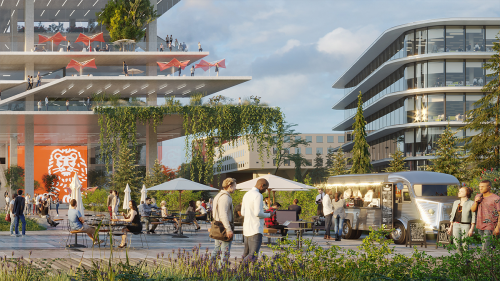 "What makes this campus different from other corporate or university campuses is that we will bring every element of the innovation cycle together in one place, creating a true ecosystem," said ING's CEO Ralph Hamers, who announced the plans at Money 20/20 in Amsterdam.

More than just the site for the bank's new global headquarters, the campus will be a place where multiple partners can collaborate on new ideas and incubate them into truly empowering new services – in line with ING's purpose to empower people to stay a step ahead in life and in business.

"I really believe that this open approach to innovation and collaboration will be the key to success in the future," Ralph said.
Start-ups, scale-ups and entrepreneurs
ING is working with the city of Amsterdam to establish the campus as an innovation hub for start-ups, scale-ups and entrepreneurs. As well as for universities, researchers, corporate partners and professionals such as patent lawyers, investors and consultants.

The idea is to create a space in the southeast of the city that attracts the brightest minds and connects people from all walks of life who are passionate about changing old ways and moving the world forward. It will be a community where they can work, live and socialise, with restaurants, sports facilities, labs and green spaces.

The campus will tap into three knowledge areas: data science, behavioural science and engineering and technology, which includes artificial intelligence, blockchain and user experience design.

The benefits of having players from multiple industries and backgrounds in one place is that it will lead to solutions and services that can't be created by a single party. And it will introduce these new products and services to customers that much faster.

ING plans to move the first employees and partners to the campus in the second half of 2019. It will continue to be developed until 2024.
Related stories
---