When you finance a story
21 September 2017
...

min read
Listen
21 September 2017
Steel constructions, concrete pillars… Arriving at the former Philips factories in the south of the Netherlands, you'd need a good dose of imagination to picture offices and studios on the massive building site.
But renovations are under way. ING Real Estate Finance teamed up with ING Groenbank on a green loan that will support the transformation of the old factories, including a power plant, into an 'A' energy label innovation hub.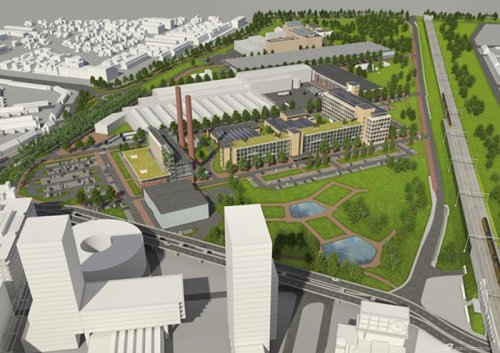 From F to A
Geva Vastgoed, a family-run real estate business, is committed to turning the industrial terrain 'Strijp-T' into one of the most sustainable hubs for businesses in the innovation industry, housing companies in sectors like 3D printing, software, and construction.

One of the buildings being renovated is a former power plant which supplied Philips with energy for its factories in the 1950s using coal, oil, and gas as sources.

"The client wants to preserve the historical character of the buildings, which currently hold an 'F' label on a sustainability scale, while working on turning them into 'A' - labelled, top-class green buildings (see box out – Ed.), equipped with photovoltaic (PV) panels, insulated roof systems and green roofs," explained Hugo van Stratum, relationship manager for ING Real Estate .

ING's five-step plan, introduced a year ago to help customers make their buildings sustainable, was one of the reasons the client chose to partner with ING on this project. One of those steps is ING's Sustainability app, which shows which energy label would be awarded after various sustainability measures, including the investment amount needed and how long it would take to earn it back.

"ING's team was fast and professional, which made it possible to partner on this. The personal contact and ING's high involvement in the project, combined with the bank's sustainability vision, are completely in line with what we want for Strijp-T," said the client.

As Dutch market leader, ING is working towards only having 'green' buildings in our portfolio by 2023, up from 13% currently. 'Brown', or non-sustainable, buildings aren't eligible for funding as of this year unless the owners have a sustainability plan in place.
Landmark project
"With this project, we redevelop one of the Netherlands' landmark buildings together with a client that is committed to changing the real estate market," said van Stratum.

The project started nine months ago, with the total redevelopment to take five to seven years.
"Working on a deal where you can restore cultural heritage gives an immense sense of fulfilment. You actually finance a story, not just a building," said Begga Berben, regional manager at ING Real Estate.
Related stories