Sustainable development goals
The United Nations (UN) plays a big role in encouraging sustainable progress. ING has partnered with the UN since we signed the UN Global Compact in 2006. We were committed to the former Millennium Development Goals and are now supporting the current Sustainable Development Goals (SDGs).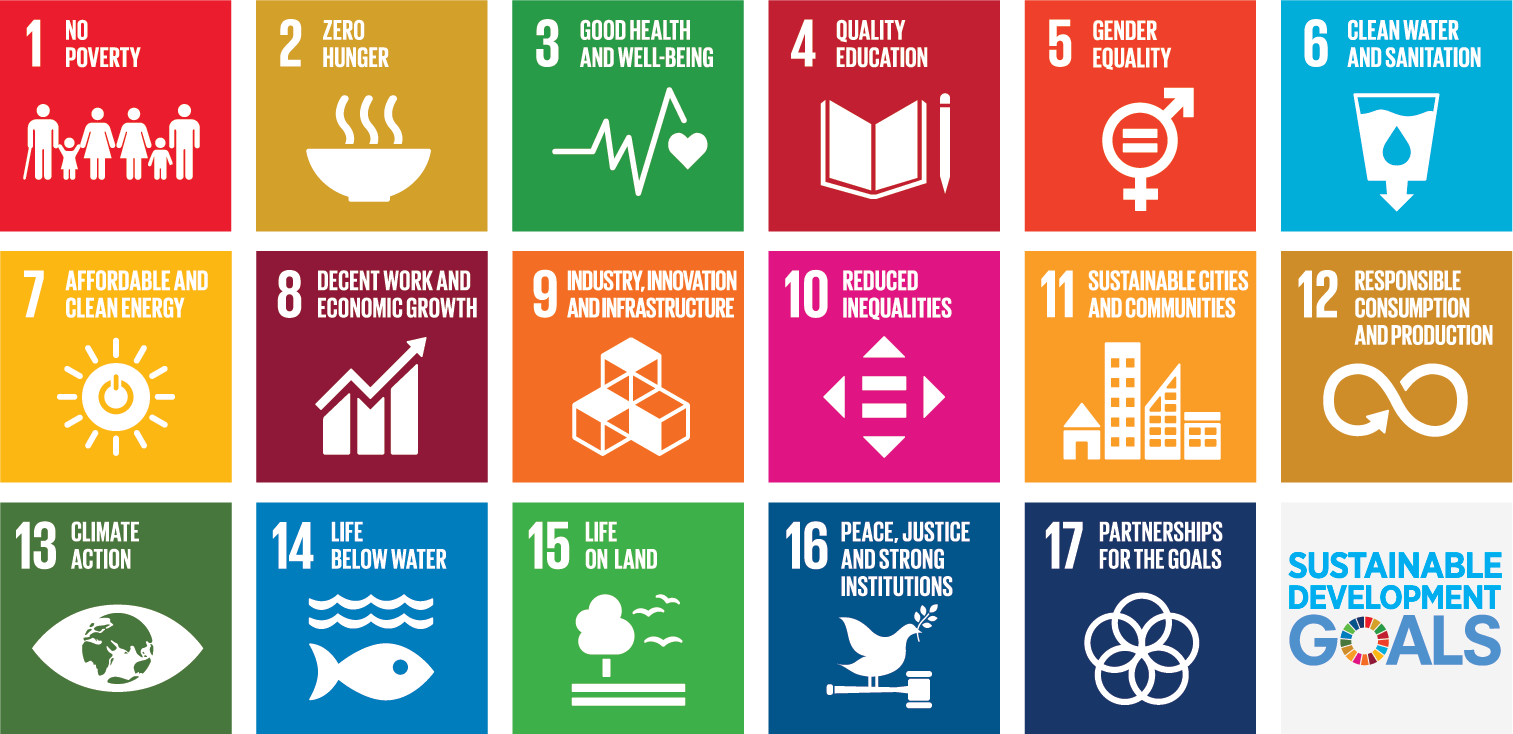 As a large bank, we indirectly contribute to many SDGs through the clients and specific projects we finance and the financial services we offer.

But we can have the most impact on the SDGs that are most aligned with our portfolio and our direction. We're committed to contributing to a low-carbon and self-reliant society, so our primary focus (PDF 1,34 MB) is on the SDGs promoting sustainable and inclusive economic growth (goal 8) and sustainable consumption and production (goal 12).

Below are examples of how ING contributes to the SDGs through our supply chain, our own operations, our business activities.

We work with other financial institutions and multinationals to continuously advance our understanding of the SDGs and assess where we could contribute even more.
Our supply chain
We aim to minimise our impact throughout our supply chain. Our Sustainable Procurement Programme ensures we have high standards of supplier sustainability performance and green purchasing strategies. We employ strict social, environmental and anti-corruption standards and monitor supplier performance via specialised sustainable supplier management agencies. Furthermore, we engage in the transition to the circular economy through our circular purchasing strategy.
Goal 7
In line with our commitment to sustainable procurement, we increased our renewable electricity consumption to 98% of our total electricity consumption in 2018.

Our ambition is to procure 100% green electricity for all ING buildings worldwide by 2020.
Goal 8
With more than EUR 4 billion spent on procurement globally and over 25,000 suppliers worldwide, we have the opportunity to advance our sustainability agenda throughout our supply chain.

ING contributes to the economies of more than 40 countries where we operate. As of the end of 2018, ING engaged with 877 suppliers in sustainability performance assessments. Out of this, we successfully assessed 412 suppliers, falling just short our 2017 commitment to assess 450 suppliers.

By encouraging suppliers to share our standards and work towards continual improvement, we believe we can make a demonstrable impact while mitigating risks.

ING's procurement policies and procedures require us to take into account the social and environmental aspects of the products we procure as well as the attitude of the supplier towards sustainability.
Our operations
Our Environmental Approach describes how we're making our own transition to become a more resource-efficient and climate-resilient company. Next to this, our policies and governance framework supports several SDGs and their underlying targets.
Goal 4
ING encourages employees to take the lead in their own personal and career development. More than EUR 87 million was spent on training and development in 2018 and a wide range of global and local training programmes are made available to strengthen employee capabilities and help them become the best they can be.
Goal 5
ING has a diversity manifesto that applies to all employees worldwide. It sets out our position and aims to foster an inclusive culture.

Different diversity challenges exist in each location and business unit. In several markets, such as the Benelux, we need to do more to make gender balance more representative, in particular in leadership positions. ING, like many other financial organisations, is facing this challenge.

In 2018, the number of female managers and female managers of managers remained fairly stable. Of our managers, 37.6 percent are women (39 percent in 2017) while for managers of managers, 29.6 percent are female – compared to 29 in 2017.
Goal 12
ING consistently works to reduce our use of paper, residual waste, water and energy consumption through our Environmental Programme. We always look for opportunities to drive sustainable consumption and production. Our paper consumption reduced to 1,083 tonnes in 2018 from 1,463 tonnes in 2017. Our residual waste, which is total waste minus the waste that is recycled, was 1,836 tonnes in 2018.
Goal 13
We are a climate 'A-list' company, according to CDP. In 2018, ING reduced its total extrapolated CO2e emissions by 44 percent compared with our base year of 2014. ING will continue to remain carbon neutral by off-setting carbon emissions and our ambition is to reduce our CO2e emissions by 50 percent by 2020 (base year 2014).
Goal 16
ING has several processes in place ensure fair operating practices. Among these are the Banker's Oath, the Orange Code, the compliance policy, whistle-blower policy, and the bribery and corruption statement.
Our business
Making better decisions improves people's day-to-day finances, but we also believe financially empowered people contribute to a healthy economy and help drive social progress, leading to a self-reliant society.

Future-proofing our clients and financing the economy of tomorrow help lead the global transition to a low-carbon and self-reliant society.
Goal 7
Within the overall power generation portfolio of EUR 9.7 billion, ING's lending to renewables is EUR 4.9 billion at the end of year 2018 (EUR 4.2 billion in 2017).

Buildings make up roughly 40 percent of global emissions. As such, real estate is one of the sectors where improvements in energy efficiency can have a large impact on lowering CO2 emissions. Our transactions increasingly involve high-grade sustainable real estate collateral. In the Netherlands, for example, we support clients through our innovative sustainability app. At year-end 2018, the low-carbon buildings portfolio totalled EUR 9.2 billion.
Goal 8
In 2018, 25 million people said they felt financially empowered (25.4 million in 2017). We achieved our 2020 target of reaching 25 million people and our new ambition is to reach 32 million people by 2022.

With our Power for Youth partnership with UNICEF we reached over 335,000 adolescents in six developing and frontier markets by year-end 2018, helping them to develop the social and financial knowledge and skills needed to build a brighter future.

In 2017, we launched the THINK website, where ING analysts share their insights on a range of economic and financial matters to help people make better decisions.

ING in Poland uses technology to help deaf customers, who previously needed an interpreter to help with their banking. Partnering with Migam.pl, ING is the first Polish bank to feature online sign language interpreters.

In the Netherlands, ING's Financially Fit programme offers a broad set of products and services that support customers in making better financial decisions. For example, the 'Kijk Vooruit' ('forecasting') tool gives an overview of planned and predicted transactions, giving users more control over their finances.
Goal 9
To deepen fintech partnerships and accelerate the pace of innovation, we launched ING Ventures, a EUR 300 million venture capital fund. It will invest mainly in start-ups whose technologies and propositions we can adopt or embed to move even faster.
Goal 12
We are moving from being a thought leader to action leader through our ING's Orange Circle programme and our partnership with Ellen MacArthur Foundation.

ING was part of the announcement at Davos on the first round of the Circular Supply Chain Accelerator, in the building and construction sector.
Goal 13
ING is committed to continuously review and monitor its policies and strategies as new risks and opportunities emerge, for example related to the energy transition. For this reason, our ESR policies are updated regularly and our ESR framework is reviewed every three years. As a result of transition risk and our commitment to combat climate change, ING further sharpened its coal policy in 2017, aiming to reduce thermal coal exposure to close to zero by 2025. ING also updated and strengthened its ESR framework over the course of 2018.
Goal 17
ING is involved in a variety of agreements and partnerships such as the UN Global Compact, the UN Environmental Programme Finance Initiative, the OECD Guidelines for Responsible Business Conduct and the Equator Principles, UNICEF to help achieve the UN Sustainable Development Goals. Click here for full list of partnerships, memberships and endorsements.