Breaking Barriers: Fast learners will be the winners
11 February 2016
...

min read
Listen
11 February 2016
The venue for the ING-powered fintech event 'Breaking Barriers' couldn't be more symbolic. The former IBM-building on the outskirts of Amsterdam now houses dozens of young and agile start-ups, ready to fight the establishment.
Around 500 people from financial corporates, fintech start-ups and start-up experts gathered in this building yesterday (10 February) to hear visionaries share some uncomfortable truths about the financial sector.

Dutch country head, Nick Jue showed an image of an elephant chased by a couple of greyhound dogs. "People tend to see us as the elephant in this picture," he said.

'Fintechs' offering alternatives to traditional banks such as ING, threaten 30 percent of a bank's current revenues, said Jue, and that could be even more if banks don't speed up.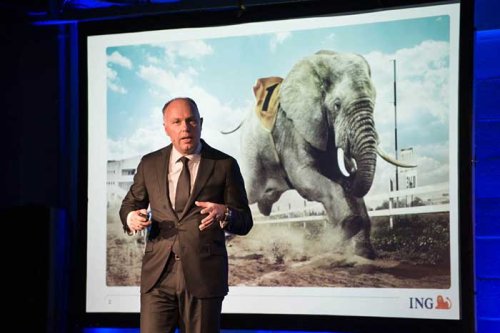 The Spotify way
To make this big bank more agile, ING Netherlands recently adopted a new way of working at headquarters, inspired on companies like Spotify, Netflix and Amazon. And that means a flatter organisation, less meetings, multidisciplinary teams called 'squads' and constant customer feedback. "It's not working perfectly yet, but we're on the right track," Jue said. "I want us to have the power of the elephant and the agility of the greyhound."
It's not the only initiative ING is taking to bridge the gap to the fintech world.

"Don't forget we're a 20-year old fintech ourselves," said ING's head of Fintech Benoit Legrand, referring to the fact that ING introduced internet banking to the world.

Right now, ING partners more than 40 fintechs and houses two incubators for fintech start-ups: the Innovation Studio in the Netherlands and Fintech Village in Belgium.

Experts at Breaking Barriers agreed that more of this will be needed to prepare the financial industry for an uncertain future.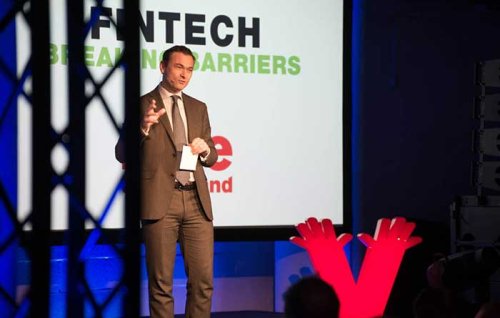 Place your bets
Don Ginsel, of event co-host Holland Fintech, mentioned that currently 25 percent of venture capital investments go to the financial industry. "People are placing their bets now," he said. Ginsel sees fintechs and bigger banks eventually grouping together in "large digital supply chains", but that vision might be some way away. A recent survey on the Dutch fintech landscape signalled a range of barriers blocking successful cooperation between corporates, fintech start-ups, and regulators. "There is much willingness to cooperate, but it's hard because there is not a good match yet between culture and systems," Ginsel said.

One of the solutions he promoted was more safe havens for experimentation where it was OK to take small risks.

Stop wasting time
Those wanting to venture into this brave new world might want to first read a book by guest speaker Eric Ries on how corporates can learn to think and act as start-ups. "Current management systems are not designed to face the extreme uncertainties of today," Ries, a Silicon Valley entrepreneur, told the audience. "As a result, we're wasting time on an industrial scale."

Corporates need to get rid of 20th century organisation models only concentrating on increasing efficiency and lowering risks. Instead of spending months "successfully achieving a bad plan", concentrate on experimenting and constantly learning, argued Ries', who admitted having a track record of 'failed start-ups' himself.

"Dare to pivot. Change your plans if customers tell you your idea won't work. Experiment with a minimal viable product so that failure won't cost you much money. And don't see risk and compliance guys as the 'naysayers', but get them on board from the start. They are your strength. Use them."

Different animals
Corporates and fintechs are "totally different animals," said Patrick de Zeeuw, co-founder and CEO of Startupbootcamp, a start-up incubator with locations in 10 cities around the world. "Big corporates get lost in their own processes. Start-ups can decide to go left or right tomorrow. If you fail twice in a big company, you're out. For a start-up, it's no problem provided you have learned something."

Still, collaboration is possible, De Zeeuw said. And he sees the mind-set changing at ING. For example, Startupbootcamp now has an 'intrapreneur in residence'. "That's someone from ING's innovation team that can help our start-ups prepare their conversations with people from the bank, and vice versa. It works well."

Only time will tell where and how the large financials and fintech start-ups worlds will mingle. To Ries, it doesn't matter who wins the game. "The winners will be those that learn quickly. As a customer, I don't really care if it's a traditional company like ING that makes the transition or if it's a new start-up. Either way, as a customer I'll have a highly responsive, well-designed product, and that's all that matters."