A conversation with Görkem Köseoğlu
28 July 2023
...

min read
Görkem Köseoğlu is ING's new chief technology officer and member of the Management Board Banking. He's eager to marry his background in computer science, data and analytics with the smart use of digital capabilities to deliver a superior experience for ING customers.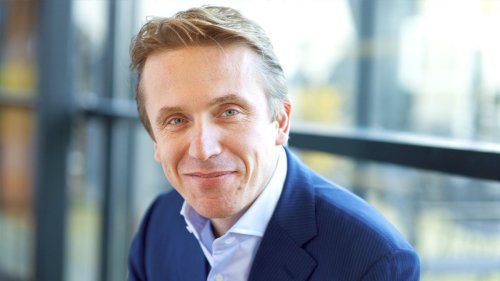 How does technology contribute to ING's success and how do you see this evolving?
The power of technology lies in how we use it for a differentiating customer experience. Tech, data and AI are shaping our society and how we live our lives. In banking, over the past 20 years we've witnessed tech moving up from the basement to the board floor. Today it's a key decision factor in all our strategic decisions because our tech capabilities are the biggest determinant of the customer experience we aim to provide. One that's personal easy, relevant and instant, available 24/7 and with consistent delivery at all times.

Technology can also play a big role in making our planet sustainably healthy again. We can use our data to gain insights into the sustainability of our businesses and to help our clients in their transitions. New energy solutions and de-carbonisation technology are critical for reversing global warming, and I am proud of the leadership ING has taken among banks, we need to continue that.
What qualities and experience do you bring to the role?
Leading the client service domains [as chief operations officer in the Netherlands] has given me a good understanding of ING and how we can best serve our customers with the smart use of digital capabilities. I believe I can marry this knowledge with my background in computer science, data and analytics [in my previous roles as ING's chief analytics officer and head of Global Robotics/Artificial Intelligence] to deliver seamless digital services that enable a superior customer experience. I also bring an international perspective, having lived and worked in several ING countries. This has helped me understand the merits and challenges of the producer-consumer model in tech, and our value proposition for young engineers in different markets.
What's your vision for CTO and what can colleagues in the CTO domain expect?
ING is a leader in banking in terms of how we develop our technology, using agile/DevOps principles and developing globally reusable solutions. However, we often focus too much on the way of working, while we need to equally focus on the principles, processes and tooling needed for scaling our architecture in a healthy way. This includes how we test and integrate our applications, how we organise for better observability, and how we get better in security and risk management by design. In addition, I would like to develop a clear strategy with regards to talent development and sourcing, in order to take us to the next level of maturity. Finally, I think we need to take bolder steps in the use of public cloud capabilities, starting with domains such as the analytics area.
What's your leadership style?
I don't think I have a specific style, you can call it situational leadership, where I try to adjust my style based on the needs at that moment and context. I've had the opportunity to lead long-term strategic transformations, as well as situations where urgent/hands-on leadership was needed. I have learned from each of these situations, and I believe I can use these learnings. In general, I try to create an inclusive working environment where different views and ideas are openly shared and equally treated – the wisdom of the crowd. I am also a strong believer of continuous learning and continuous improvement, or progress. I expect each member of our teams to have ideas about how we can improve our day-to-day activities, and to bring those up in the appropriate channels. One of my favourite quotes is by Bob Dylan: "If you are not busy being reborn, you are busy dying".

What gets you up out of bed each day?
The greatest joy for me is in bringing a new solution live, whether it is a new digital product feature, a new/easier service for our customers, a KYC solution, or a new learning solution for our employees. I like to see the progress and results coming to life. That is my motivation at the workplace, proving every day that banking can be done better.

How do you relax and have fun?
I like to spend time with my daughter (she is 13), and socialising with my friends. I live in the centre of Amsterdam and enjoy what the city has to offer in terms of its venues, restaurants, etc.
Related stories