Aviation and climate change
31 March 2021
...

min read
Each industry is different, but they're all dealing with climate change. What's happening in the aviation sector and how is ING supporting the low-carbon transition? Hugo Kanters, global head of ING's aviation finance sector, gives his perspective.
In aviation, the incremental cost of decarbonising is probably the highest of any sector globally. In other words: it's incredibly complex and incredibly expensive. Still, the sector is making progress.
What were the trends in aviation before the coronavirus hit?
Aviation is an industry that's 100 years old. Two airlines have celebrated their centennial: KLM and Qantas. Despite being a mature industry, the growth rates of people flying globally have been relatively high. There's a couple of reasons. The cost of flying came down over time. But also we have roughly half the world's population in Asia and by and large, particularly Asia is the continent that is starting to fly. In the US, the average amount of flights per person per year is relatively high, at around 3. In Europe it's a bit less, but in Asia that number is less than 0.5. That's one part of the equation. At the same time the environmental impact awareness has been growing as well, although it's different in different parts of the world. The awareness is really increasing with the general public, but also with ING's client base.
How did the coronavirus change everything?
The aviation sector was the first sector to be hit, the hardest to be hit and probably also the longest to be hit by the corona pandemic. The industry is going through a very distressed situation where people don't travel by far as much as they used to, neither for business nor for visiting friends and family. People are not afraid to fly. They want to – the underlying demand is still there. But people are worried about quarantining rules at their destination or when returning. People want to fly and there's no alternative to it. You can't do your holiday via a Zoom meeting.
Do you think the aviation sector is doing enough to curb its environmental impact?
The aviation sector gets a lot of attention when it comes to environmental footprint but it's important to put it into perspective. If you look at CO2 emissions, which isn't the entire discussion, I know, the aviation sector is relatively small, with about 2.5%-2.7% of total global CO2 emissions. So on the one hand, I think it is perhaps highlighted too much compared to sectors that have a higher environmental footprint. On the other hand, everyone needs to play a role in reducing CO2 emissions, so we can't hide behind the fact that the impact is relatively small. And ING doesn't.

The latest generation of aircraft is about 15% more fuel efficient, which means roughly 15% less CO2 emissions. So it is happening, but in terms of technology there's only so much you can do. Despite some experiments you may have heard about, battery-powered electric flight in commercial aviation is not on the horizon, as the current and next generation of battery technology is by far not suitable for commercial aviation. It's slow steps but they are being made. But they also come at a tremendous expense.
Why does change go so slowly?
A number of things. In aviation, the incremental cost of decarbonising is probably the highest of any sector globally. In other words: it's incredibly complex and incredibly expensive. The development of any new aircraft from scratch is a more or less a once-in-a-decade exercise and is associated with costs in the tens of billions. Developing an aircraft from scratch is probably one of the biggest engineering exercises on the planet. So that only goes slowly, step by step. It doesn't make sense to develop aircraft technology that is only marginally better. Also, the aviation sector is the most safety-obsessed sector there is. You can't just experiment with new technology when you're transporting millions of people in the air every day. This ties in to why it's so expensive and difficult. If the manufacturers wouldn't prioritise safety there's no business case for the sector anymore. Still, the sector is making progress.
We've committed to aligning our aviation portfolio with the two-degree pathway. How are we doing that?
ING was the first bank to publish the Terra report about aligning our portfolio with climate goals. We included the aviation sector, even though it's not part of the Paris Agreement. We played an instrumental role in developing a methodology for the sector because there wasn't any. As we speak, we're having a number of conversations with our clients globally on what Terra means and what airlines could do. These are very fruitful discussions. What we do together with our customers is focus on the latest technology aircraft because they have by far the least amount of CO2. We try to steer our portfolio in that direction. We encourage our clients to have the same focus and to come with us on this journey to create transparency and measure CO2 impact. We are a bank: we participate in the real economy and we facilitate change for the better. I think ING is demonstrating thought leadership and we're gaining traction.
How does the dialogue with our clients usually go? What topics do you discuss, what is the atmosphere like in those discussions?
We have a close and good relationship with our clients and usually approach them to have a conversation around Terra and sustainability: what ING is doing, what it means, who's working with us and where we see the financial sector and investor markets going. Increasingly our clients are very focused on this topic. They're understanding that it's not a topic that's going away. Having no answers isn't good enough anymore. We're working with the top clients in this segment and there's a lot of awareness and commitment. But there's no magic formula. It will be a very expensive and long road, but it will happen. There's no instant success.
What do you think of carbon off-setting, ticket taxes, etc?
There is an effective carbon emission off-setting scheme on EU level and a global scheme is in the making. But off-setting doesn't mean reduction. Personally, I'd want to pay more for a ticket to have a larger share of sustainable aviation fuel in that. Sustainable aviation fuels can be used in current technology aircraft on a 'mix-in' basis with regular jet fuel. And I expect this will be increasingly introduced by governments as it becomes more available once we put the pandemic behind us. That's a better approach than just introducing additional ticket taxes. These taxes, we know from experience, do not lead to any CO2 reduction and are typically just absorbed by the consumer. Some airlines started offering sustainable aviation fuel 'add-ons' when you buy a ticket and I think that could be part of corporate travel policies.
Do you feel guilty when you fly?
No. there is no alternative for flying. Besides business travel, which will likely be reduced for some time as the pandemic has made people accustomed to digital meetings, a large part of air travel is about seeing friends, family and vacationing. That's part of the social fabric of society and people won't give this up. Of course, if you fly excessively you should maybe feel guilty, but to some extent it's part of the way society and our global economy works. I hope that the day will come that we're not having this discussion anymore, because we've found solutions that tackle climate change.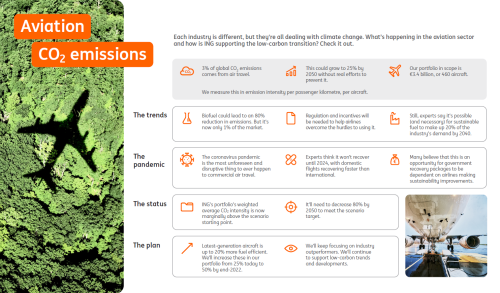 Related stories