Five countries, seven teams, one product
04 May 2018
...

min read
Listen
4 May 2018
The recent launch of an easy-to-use investment product in Austria, Germany, Belgium and Luxembourg combines the best of ING's expertise in one empowering solution that works for customers in multiple countries.
ING's customers are from different countries, speak different languages and their financial decisions are often influenced by different cultural norms. Yet they also have things in common. Like an appetite for investing their money without needing a financial degree or the help of a financial advisor.

Using this as a starting point, ING pooled its investment expertise in various countries to create a new low-cost easy-to-use investment product called ING Global Index Portfolios.

It was developed jointly by teams in Germany, the Netherlands, Luxembourg and Belgium, each contributing a vital part to the whole.
It started in Germany
The idea originated in Germany, where ING wanted to introduce a simple mutual fund for Retail customers based on ETFs – exchange-traded funds, which track a stock exchange index like the EURO STOXX 50.

It would offer a different customer experience to the 'robo' investment advice with Scalable Capital, which uses an algorithm to help them manage individual ETF portfolios. Instead the ETF portfolio would be wrapped into a fund.

Rather than working with an external asset manager as they had done in the past, the German team decided to go in-house. They approached ING's Investment Office in the Netherlands, which manages a high-performing index tracking portfolio. Called Beleggen met Beheer, it has outperformed the market repeatedly since 2014.
"Although this fund was tailor-made for Germany to start with, we knew it would also work in other countries where there is a similar appetite for ETFs," said Martin Krebs, global head Retail Investment Products Solutions.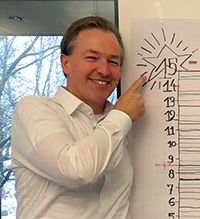 Three risk profiles
To make the product suitable for the German market, they bundled the ETF portfolios into three funds offering investors different risk profiles – dynamic, balanced and defensive.

The fund is set up and managed internally by Luxembourg-based asset manager ING Solution Investment Management (ISIM) in cooperation with ING's Investment Office in Belgium.
ING Global Index Portfolios was launched in Germany at the end of 2017, followed by Luxembourg and Austria, where it is the country's first ETF fund.
Related stories
---