One app to rule them all
26 April 2017
...

min read
26 April 2017
Dong Jian, 30, isn't someone that marketing people would call a digital native. Born before the widespread adoption of digital technology, he's little old for that. But that hasn't stopped him from doing what close to a billion people in China do every day, and that's use WeChat.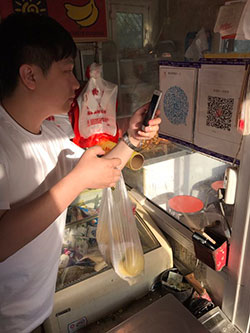 WeChat, or Weixin in Mandarin, is a social media app that has been so successful in China that it is difficult to live without it.

"WeChat is in all parts of my life," explained Dong.

"I use it from morning to night, mainly the chat and payment functions, but also to see how my friends are doing."

"I use it to order food, call a taxi, buy movies and train tickets and pay my utility bills. I also follow the official accounts of other companies that are in the same industry as mine."

"Honestly, I have no idea how many times I use it each day because it is integrated into my life. There is no other app that is as widely used by all my friends."
A necessity
Another user, Mila Anisa, 20, originally from Indonesia but now based in the Netherlands, was forced to use WeChat out of necessity when studying in Shanghai.
"University teachers all sent documents from lectures via WeChat. Every time I networked with local people they always asked me for my WeChat ID. Even promotions from restaurants… I quickly found out that WeChat was a necessity in China."
"Whether I liked it or not, I had to use it to communicate. And when I wanted to meet a friend and couldn't find her, I used a feature that could see where I was and guide me. Although China is massive, I would never get lost in China because of WeChat."
Mila quickly became an aficionado using the app to send documents, make payments, chat, call, video call, get news updates, upload pictures and even get passwords to enter parties or clubs!
"It's only one app, but it covers everything. Most importantly, it's fast," she said.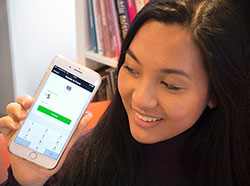 "Whether I liked it or not, I had to use it (WeChat) to communicate"
Tweet this
- Mila Anisa
A phenomenon
Dong and Mila's experiences with WeChat are not dissimilar to the app's 800-odd million other daily operators. With users of all ages and demographics spending around one-third of their mobile internet use a day on WeChat, it's not hyperbole to describe the app as a phenomenon.
It's a platform that has given Silicon Valley firms, among others including ING, plenty to think about. WeChat, while fundamentally a messaging app, serves many of the functions that Western platforms such as Facebook, Skype, Uber, Expedia, Amazon, Spotify, PayPal, and Tinder can only provide individually.
Importantly, the juggernaut that is WeChat, doesn't look like it's slowing down. Owner Tencent have developed WeChat as a business tool with more than 20 million office workers able to apply for leave, seek reimbursement of expenses and check the progress of a project. In China, as Mila quickly found out, they don't ask for a business card, but exchange WeChat ID's.
But it's not just China that Tencent has its eyes on. Moves are underway to expand WeChat's e-commerce and payment services for brands in Europe and introduce an international payment service that means Chinese tourists will have the option of using WeChat Pay in European stores.
Cashless and cardless
One of WeChat's more impressive achievements is that it has allowed Chinese consumers to navigate their day without handing over cash or pulling out plastic. Significantly, over half of WeChat's users have been persuaded to link their bank accounts to the app, something that Western products have not yet been able to do.
While WeChat is a great example of what is known as a platform business and is not a direct competitor to ING, it is part of wider trend that coincides with the digitalisation of business. From Uber to Alibaba and Airbnb, the spectacular growth of platforms has caused a major disruption to how business is conducted. So much so that experts have warned that many of the world's top 500 firms will lose their ranking if they fail to make the transition from 'buy-make-sell' to platforms.
But what exactly is a platform? Sangeet Choudary, author of Platform Revolution and Platform Scale, is an expert in this field. He defines a platform as a "plug-and-play business model that allows multiple participants (producers and consumers) to connect to it, interact with each other and create and exchange value".
Choudary argues that even though they come in many varieties, platforms all have an ecosystem with the same basic structure, comprising of four types of players. The owners of platforms control their intellectual property and governance. Providers serve as the platforms' interface with users. Producers create their offerings, and consumers use those offerings.
The New York Times looks at the 'super app' that is WeChat. [2:19].
Ecosystem of its own
When it comes to platforms, ING isn't sitting still. Firstly, it's worth mentioning that ING were one of the first to introduce banking platforms with the introduction of ING Direct. With that said, ING currently has many individual platforms spread over many countries and business units and now has a long-term ambition to create one ecosystem of its own: a place that people go for all their financial questions and needs, and more.
Secondly, it wants to be where customers are in the most popular ecosystems out there.
ING is well underway to creating an ecosystem of its own. CEO Ralph Hamers, an unashamed fan of WeChat, announced a series of initiatives last October that will eventually result in a single global platform for financial services, with one consistent, enhanced experience for all customers, wherever they are.
Individual ING countries and business units will harmonise business models and develop shared operating platforms. Infrastructure, data and support functions will be standardised and in the next five years, ING intends to invest EUR 800 million in its digital transformation. This, among other customer benefits, should lead to an even better user experience and speedier delivery of new products.
This story is the first in a series. Keep an eye out for the next story that will delve deeper into how ING is embracing 'platformisation'.
Related articles