Sustainable housing too expensive
25 October 2018
...

min read
25 October 2018
Whether you're a renter or an owner, there are many things that can be done to make your home more environmentally-friendly. However, in many cases, money is the main obstacle to greener houses. According to the latest ING International Survey, 57% of Europeans find housing in their local area expensive, let alone making it more sustainable.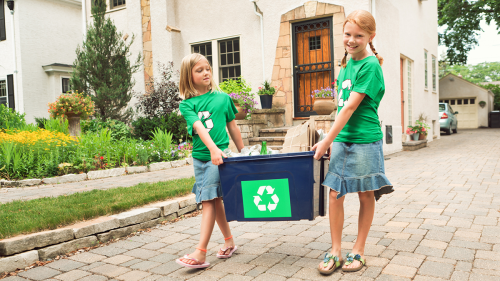 For many, the upfront cost of greening their homes is too high. This is according to ING's international survey into sustainable homes. We asked almost 15,000 people in Europe, the US and Australia about the sustainability of their homes, the cost of sustainable housing, and how we could motivate them into going green.
Money is an issue
While 70% of Europeans say they try to minimise the environmental impact of their home, more than half agree they could do more. However, of this group, 47% say they don't have the money to do so. A further one in four say they don't know how, pointing to a need for more environmental education.

At the same time, the majority of Europeans believe they already do enough to reduce their daily impact on the environment, for example by recycling, and affordability requirements trump those of sustainability.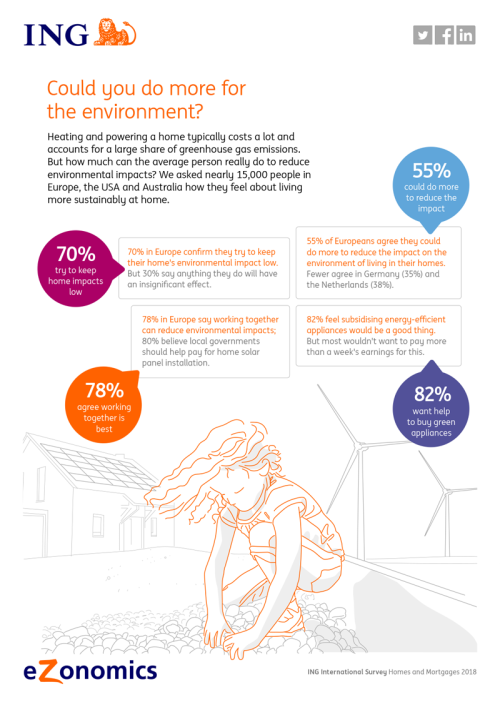 Invest now, save tomorrow
Investments like solar panels can be costly initially, with savings taking years to accrue. It may even be that they only kick after the property is sold, benefiting the next owner rather than the one that makes the investment.

"Reducing the up-front cost of long-term investments can make them feel more achievable and reduce short-term financial hurdles," says Jessica Exton, behavioural scientist at ING. "If money and energy can be saved quickly, people are more likely to pay an upfront cost."

This is echoed by the findings of the survey, with 82% in Europe saying government help, such as through subsidies on energy-efficient home appliances, would be 'useful'.
"Sustainable housing not only contributes to a low-carbon society but can help make the everyday budget sustainable, for example by helping people to save money on their energy bills," says Sandra Schoonhoven, ING's global head of Sustainability Programmes.

"It is the initial upfront cost of going green that many see as a barrier to doing more for the environment. ING's survey findings should therefore encourage businesses to invest in true sustainability initiatives that benefit everyone."
Related stories