The world's leading CEOs are serious about sustainability
23 June 2016
...

min read
Listen
23 June 2016
Nearly nine out of 10 CEOs believe that commitment to sustainability is translating into real impact, according to the world's largest study of CEO attitudes on sustainability.
More than 1,000 leading CEOs responded by survey for the 2016 study (conducted every three years by the United Nations and Accenture), and more than 50 CEOs gave in-depth interviews, including ING CEO Ralph Hamers.

Ralph Hamers and the other CEOs especially see the UN Sustainable Development Goals (SDGs), which came into effect in January 2016, as a good opportunity to rethink how businesses can contribute to sustainability. More than two-thirds (70%) said that the SDGs provide business with a clear framework to structure their efforts.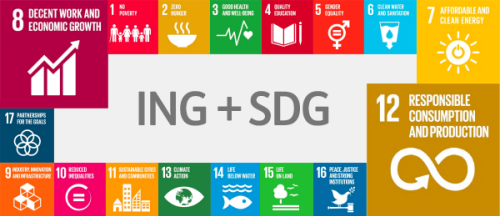 "Sustainability is about our business and our role in society, and we need to give people insights for a longer view of the future," Ralph Hamers said in the interview. "The moment you try to take a leading role, responsibility comes with that: you have to lead the change that you want to see, and stay ahead of the pack."
As a large retail bank, one way we can contribute to the SDGs is by using digital technology to accelerate financial inclusion, said Ralph Hamers. We're doing this already with simple tools like mobile banking to keep track of daily expenses, our online "Financially Fit" tools to analyse finances and help decision making, and the digital savings coach "Coach Epargne" at ING France.

The other CEOs also see the importance of technology, with 75% saying they see digital technologies already working to enable more sustainable business models, such as the circular economy.

The circular economy—changing from "take, make, waste" to "reduce, reuse, recycle"—is also a focus area for ING, evidenced by how we recently joined the Ellen MacArthur Foundation.

"An area where we can make a valuable contribution to society and our clients is in making circular business models work," Ralph Hamers said in the study. "If companies don't sell their products and don't get the cash in all at the same time, then they need a bank to work with them to make it work."

Progress
The study showed that CEOs recognise the progress that's been made over the past years. Reflecting on the SDGs, COP21 in Paris, and growing acceptance of higher standards on labour and human rights, 67% of CEOs now believe that business is making sufficient efforts to address global challenges, up from just 32 percent in 2013.

Still, we're not there yet. Challenges still include measuring, tracking and communicating the impact of business action on sustainability; more action locally; forging new coalitions and partnerships; and innovating in new business models and technology.