Turning smartphones into mobile points of sale
21 July 2019
...

min read
Turkish small business owners can now use their smartphones to securely accept payments from customers following a pilot by ING and Mastercard.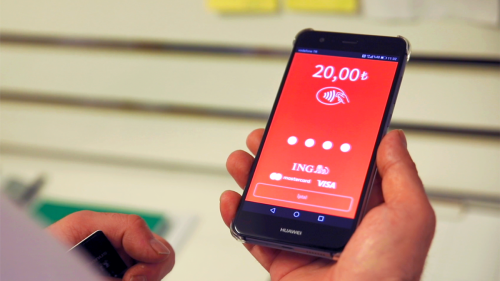 The 'Tap on Phone' application allows business owners to use their Android smartphone, tablet or other smart devices as mobile points of sale (POS), replacing the traditional cash register or electronic POS terminal.

"ING is the first bank to pilot a software-based 'tap on phone' solution. The app is ideal for smaller businesses without a traditional checkout counter or for businesses with low transaction volumes which are often on the go," said Abidin Gürsel Akbatur, project lead and merchant acquiring lead in the payments centre at ING.

"It empowers business owners to accept payments anytime and anywhere, without having to invest in expensive terminals."

The portability of mobile POS terminals makes payments cheaper and more flexible for merchants and easier for customers.

"My customers who normally don't have cash on them are able to pay by card now," said Ali Ferdi Tatar, corner shop owner in Istanbul. "It's very convenient."
Cloud-based money saver
Aside from making it easier for merchants to accept payments, the app helps them avoid the complications and costs of third-party providers. Any Android-based smartphone or tablet can be transformed into a mobile POS with the 'Tap on Phone' app and an activated near-field communication – a form of wireless data transfer available on most phones today.

To protect customer privacy, data is encrypted and stored in the cloud, which is beneficial for users too, allowing them to track inventory and check daily transactions in real-time.

According to Mastercard, there are 1.5 million small-medium enterprises and millions of other micro businesses owners such as taxi drivers, florists and electricians who can increase their sales and lower costs by adopting digital payments.

"We are looking forward to launch the pilot in other ING markets with similar needs," said Abidin.
Related stories