Our brain is in beta testing
11 April 2018
...

min read
11 April 2018
Our brain is a flawed piece of decision-making software, but fixing the problem is "not impossible". That was the hopeful message from this year's Think Forward Summit, where some promising solutions were on display.
The human species' ability to think forward is in beta testing.

At least that's what Harvard psychology professor and decision-making expert Dan Gilbert says. Although human beings have been around for millions of years, the software in our brains that allows us to think forward, or plan for the future, is actually quite 'new' — and it still has bugs.

"I've spent the last 25 years as a scientist trying to understand these bugs," he said in a keynote speech at the third Think Forward Summit, held in Amsterdam this week.

"Science is patching our think forward software but we have to go out and download the patches ourselves. That's what we're doing here today."

The Think Forward Initiative Summit gathered around 150 experts from leading universities, research institutions, consumer organisations, NGOs, fintechs and financial services, all with a passion for helping people make better financial decisions.

They were inspired by keynotes from Dan Gilbert and Mick Ebeling, CEO of Not Impossible, as well as a marketplace with updates on the research done over the past year and the fintechs from the TFI accelerator. The goal remains turning research into tools that help people become more financially resilient.

On the shoulders of giants
Otly! is one of the four start-ups in the TFI accelerator's growth track that presented itself during the marketplace. The app helps parents manage, track and control their kids' allowance while teaching them about money. CEO and co-founder Lior Bornschtain passionately tells his company's story to a curious group of participants.

"We want to help parents give kids the beautiful present of financial education," he said.

"But we're just a company in Amsterdam. Being here gives us the chance to stand on the shoulders of giants and really spread the word."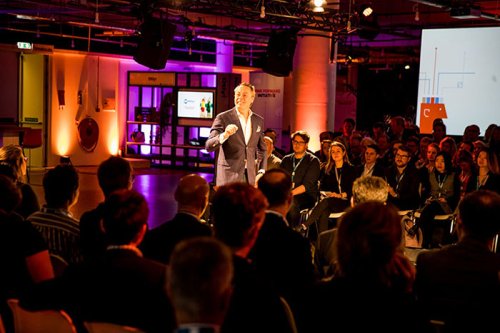 The growth track supports four existing start-ups to collaborate with experts and research to scale up their reach. Besides Otly! there's MoneyCoach (personal finance), Limitless (automated micro-investments) and Quotanda (student loan services).

The three companies from the incubator track were also on hand at the marketplace. One is Jarvis, a tool helping people to spend more wisely by providing tips and tricks that are personal, timely and highly relevant.

After graduating from the incubator, Jarvis will be boosted by the TFI partners, ING and Deloitte.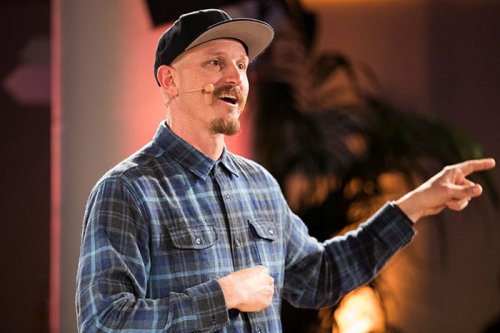 If not me, who?
And if you think solving a problem is hard, check out the story of one of the other keynote speakers, Mick Ebeling, founder of the Not Impossible Foundation.

Mick's approach to tackle 'absurd' problems is seemingly simple: start with one. Take one person's hardship as a starting point, create a solution for it, tell the story and spread the solution far and wide. This way, Mick and his foundation helped an artist with ALS regain his ability to draw, and used a 3D printer to make arms for a young boy who lost his in a bombing in Sudan.
"I hope everybody walks away today saying 'wait a second, I can do this'," said Mick.

"There's a saying we love at Not Impossible: if not now, when? If not me, who?"

ING CEO Ralph Hamers echoed this sentiment, stressing the open structure of TFI and calling for people in the audience to help take it to the next level in the third year of the movement, aiming to reach 100 million people around the world.

"Whoever you know, a colleague, friend, fellow academic, consumer organisation in another country, who shares this passion and conviction, get them in," he said.
Related stories
---