Social hackathon? Young people help their peers
01 December 2017
...

min read
Listen
1 December 2017
It's a Saturday morning in Montenegro and 20 people aged 17 to 28 have gathered in a neighbourhood youth centre.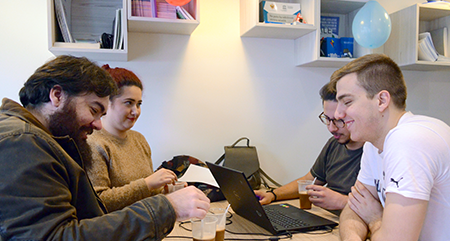 They're ready for the Power for Youth Hackathon for Social Change.

It's like a typical tech hackathon—where software developers collaborate intensively for 24–48 hours on projects of a given theme—except the developers are young and the theme is financial empowerment.

The aim is to develop solutions—technical or otherwise—for teaching primary school students financial literacy and how to help them (or help their parents teach them) save money.

"We are building a platform for children which is fun, with a little bit of education," said participant Sario Al Mustafa.

"I believe they will find it interesting while also learning."

The hackathon is part of ING and UNICEF's 'Power for Youth' partnership, which helps adolescents around the world by giving them the skills and tools to improve their future and the futures of the people around them. Three ING Belgium colleagues were there to act as mentor and jury member.
Do things your way
Participants were spread across seven teams and most were computer science or design students.

"I like these kinds of happenings because you can express your ideas and do things your way," said participant Vuk Tadić.
"You can innovate, and build something that may become something someday."

The hackathon, which was organised close to World Children's day on 20 November, follows the first volunteering pilot with colleagues from ING in Germany this past February. That project culminated with the development of a financial management training package for youth.

This time the winning team will be designing an app to track pocket money and teach young people about savings. They have three to four months to finish the development process with mentoring support from UNICEF.

"If they put in only half the creativity and enthusiasm that was seen by all teams at the hackathon, I'm sure it will become a great app," said Rob Gneo of ING Belgium.
Why Montenegro
Montenegro is one of six countries Power for Youth focuses on. Adolescents there—particularly those from the Roma minority, with disabilities, in the care of the state, or affected by physical and sexual violence and neglect—are faced with challenges. The education system is under-performing, and many youth lack the competencies and skills necessary for further education and future employment. Power for Youth aims to help change that.
Related articles