Breeze in, breeze out
04 February 2019
...

min read
The world's first zero-energy hotel is called Breeze and is currently being built in Amsterdam. For Dutch engineer Ben Bronsema, it's a dream come true. Harry Koster, relationship manager at ING Groenbank, helped with the financing of Breeze and wrote a blog about it.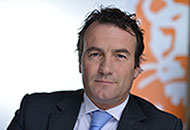 There's a fresh new wind blowing through the hotel sector, and it's a circular one called Breeze. In my time as a relationship manager at ING Groenbank, I've seen plenty of sustainable hotel projects come and go, but Breeze beats them all hands down. The world's first zero-energy hotel, Breeze is currently being built in the harbour area of Amsterdam and is set to open in spring 2019.

I couldn't quite believe what I was hearing at first — a hotel that doesn't use any energy. Sustainability isn't the first thing that springs to mind when you think about hotels. They often have the air conditioning running day and night, they have piles of towels to wash every day. And let's be honest, most of us don't do our bit either when we stay at a hotel. Even I can't resist taking my time in the rain shower.
100% energy-neutral
Breeze is a 100% energy-neutral building and is the magnum opus of 83-year-old Ben Bronsema, who got his PhD in the principle he calls 'Earth, Wind & Fire' at the age of 75. The principle is based on Bronsema's fascination for termite mounds. Termites are experts in controlling air flows, ensuring that the temperature in their homes stays the same. Bronsema applied this concept to a system in which wind, water, the sun and the earth work together to cool and heat a building. The result is a consistently comfortable temperature and no energy costs.
Circular stays
Following five years of preparations and building, the big day is almost here and Breeze will be opening the doors to its first guests in a trial in spring 2019. Almost everything in the hotel rooms is made from sustainable materials, from the clothes racks to the velvet cushions on the bed.

Actually, everything you see at Breeze has its own sustainable story. The chef will only use local, seasonal products, while the bikes in the gym will be linked to the Breeze app to show you how much energy you've generated. The latter is of course rather tongue in cheek, but sustainability is nonetheless serious business for Breeze.
Courageous ambition
ING Groenbank is often asked to approve plans with sustainability playing a major role in the construction or renovation of a building, but the ambition that Breeze has set itself and achieved (i.e. to be 100% energy-neutral) is not something you see every day. I think that shows real courage.

'Breeze in, breeze out' is part of ING's series of video clips celebrating the courageous steps customers take in their life and/or business.
Related stories