The Sustainable Customer in the Spotlight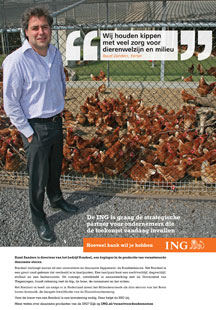 Rondeel BV is the first ING customer to feature in a new series on sustainable entrepreneurs in Ode magazine. This customer had previously featured in an ING advertisement in the NRC newspaper.

Rondeel BV sells eggs from innovative, sustainable chicken houses: Rondeel eggs. The Rondeel – a housing system for chickens - is a large, round building divided into wedges. Each wedge has an area for the chicken to sleep, a daytime area, a dust bath and an outdoor area. This concept, which was developed in cooperation with Wageningen University, takes account of the chicken, the farmer, the consumer and the environment. The Rondeel egg is the only egg in the Netherlands with an eco label and has been awarded three stars from the Beter Leven (Better Life -label, the highest qualification awarded by Dierenbescherming, a Dutch society for the prevention of cruelty to animals.

During the next few months, ING and Ode will be featuring several ING customers who are leading the way in innovation and sustainability. Ode magazine and the NRC newspaper will be shining the spotlight on these front runners.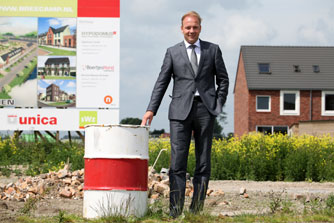 The July/August edition portrays Unica in the second instalment of a ten-part series on green business in the Netherlands. Part three will follow in the September edition of Ode.

Unica, a general contracting firm founded nearly 80 years ago, seeks to be the greenest in the industry by relying on its own business acumen and innovative ideas, such as using wood chips to generate heat. Read in July/August Ode more about how Unica are on their way to becoming the greenest general contractors in the country. Why not subscribe today or at least take out a trial subscription?
The September edition highlights Nils Spaans. In 2006, Spaans was chosen 'European Dairy Farmer of the Year' by the European Dairy Farmers network. He received the award for turning his relatively small organic business into a financial and technical success story with a broad-based function in society. He combines farming with managing a nature reserve. He also involves people from many different walks of life in his work by receiving groups at his farm yard and by providing cycle and walk routes on his land.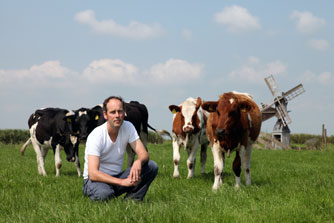 This campaign was initiated by Business Banking, part of ING Retail Netherlands and the Sustainability department of ING Bank. The aim is to demonstrate that ING helps socially responsible businesses in the Netherlands as a strategic partner to bring about positive change. ING shares relevant knowledge with its customers and helps entrepreneurs to become more successful.

ING takes its social responsibility seriously and aims to adopt a distinct identity as a company that supports sustainable innovation. For more information about ING's approach to corporate responsibility, see ingforsomethingbetter.nl