Deforestation
According to the Food and Agriculture Organization of the United Nations, forests cover 31% of Earth's land surface. This coverage is rapidly being reduced through human activities such as urbanisation, fires and logging. Between 2015 and 2020, the rate of deforestation was estimated at ten million hectares per year1. Agricultural expansion is the main driver of deforestation and forest degradation, which results in the loss of (forest) biodiversity.
With the world population now having passed the eight billion mark, the challenges to feed the world and at the same time protect the planet's forests will increase.

Our Environmental and Social Risk policy sets standards for our clients active in the agricultural commodities sector. These standards are part of the due diligence we perform on clients in this sector.

Some of those standards include asking clients whether they comply with certain programmes and/or certifications. For example, below are some of the programmes and certificates we consider to be relevant to the agricultural commodities sector (this list is non-exhaustive):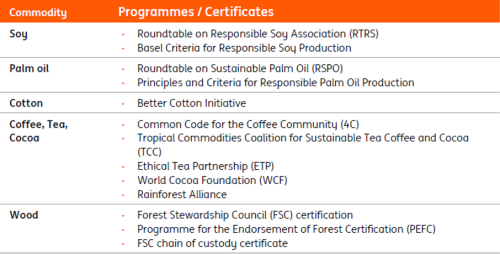 1Data from the Food and Agriculture Organization of the United Nations (FAO)
We do not engage with clients that have been involved in illegal deforestation and/or the removal of High Conservation Value (HCV) or primary forest.

We realise that all agricultural land had to have been initially cleared of its naturally occurring flora, which may or may not have involved the removal of protected forest areas. Although we cannot always ascertain which of this land used to be HCV or primary forest in the past, we make an effort to determine whether deforestation of HCV or primary forest took place over the past five years when requested to finance a specific transaction for a client in the agricultural commodities sector. We consider the direct involvement of the (potential) client and the extent to which it tried to prevent deforestation.

In addition to the due diligence activities described above, we are engaging in a risk based manner with targeted clients active in cattle, palm oil, soy, wood, rubber, cocoa, and coffee, calling on these clients to put in place no-deforestation and no-ecosystem conversion commitments and policies and to work towards full traceability in their supply chains. To embed this in our due diligence and engagement processes we will update our Environmental and Social Risk policy accordingly in 2023. We will develop the means and the metrics to disclose the progress of our efforts on this topic on an annual basis with a first report envisaged in 2024. In doing so, ING aims to be transparent in its approach and analyse if our efforts are working – with a final objective of contributing to a deforestation- and ecosystem conversion-free world.
---
You might also be interested in:
Our policies
What do independent specialists say about sustainability and ING?