Deforestation
Forests still cover some 30% of the Earth, but that coverage is steadily being reduced through human activity such as urbanisation, fires and logging. Another activity resulting in deforestation is the production of agri products such as food. There is a clear tension between the challenge of feeding the world and the desire and need to protect this planet's remaining forests.
The growing, harvesting, milling, refining and processing of agri commodities (e.g. coffee, tea, cocoa, cotton, soy and palm oil) requires large amounts of land and specific climatic conditions – meaning that these agri commodities are grown in various parts of the world, with varying levels of regulatory protection and enforcement.

Some of the risks involved in the agri commodities sector include soil erosion, land degradation, natural stock depletion and the loss of biodiversity/endangered species and ecosystem services. Other risks include harmful and malodorous air emissions, human rights abuses and disputes over land tenure and land use.

We believe in addressing these potential risks/impacts, and through our ESR policy on Forestry & Agri commodities we aim to set best industry standards for our clients active in the agri commodities sector.

Some of those standards may be achieved by following certain programmes or requiring certifications. For example, we consider the following programmes and certificates to be relevant: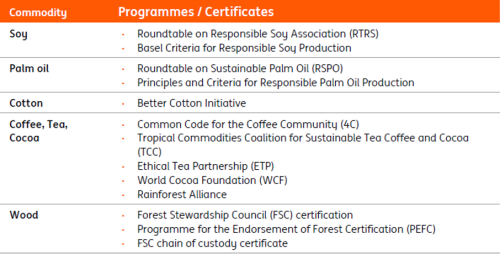 In general we do not engage with clients that have been involved in illegal deforestation and/or the removal of High Conservation Value (HCV) or primary forest.

We realise that all agricultural land had to have been initially cleared of its naturally-occuring flora, which may or may not have involved the removal of protected forest areas. Although we cannot always ascertain which of this land used to be HCV or primary forest in the past, we make a strong effort to determine whether deforestation of HCV or primary forest took place over the past five years when requested to finance a specific transaction. We take into account the direct involvement of the (potential) client and the extent to which it tried to prevent deforestation.
---
You might also be interested in:
Our policies
What do independent specialists say about sustainability and ING?

Other Sustainability news